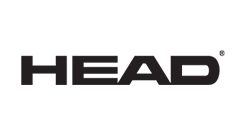 HEAD
In the 1950's, Howard Head, an engineer, developed the first metal laminate wood core ski based on the need he saw in the market place for a product that was easier for the average consumer to use and enjoy than what was offered at the time. Shortly thereafter the HEAD brand of skis was born. In the early 1970's Head retired and sold the HEAD Ski Company. To keep active Howard took up the sport of Tennis. Frustrated with the heavy and small head racquets offered at the time, Howard sought off to develop a new tennis racquet that used aluminum (as opposed to wood) and featured a larger head size (110 sq inches as opposed to the 70+ sq inches). To this day HEAD as a company kept up with Howard's legacy of being a technologically advanced sports company creating products that allow consumers to further enjoy their sports.
HEAD Badminton
Lightweight with incredible accurary, enjoy the game with effective racquets constructed of high modulus graphite for extra durability.
HEAD Tennis
A racquet for every player, Head tennis racquets are made for precision, speed and versatility.
HEAD BV (parent company of HEAD), is a global provider and marketer of premium branded racquet sport equipment (Tennis, Pickleball, Squash, Racquetball, Padle, tennis apparel, footwear, balls (Penn and HEAD branded)) and winter sports (alpine skis, boots binding and snowboard skis, boots and bindings).
Many of today's top ATP and WTA players, including Novak Djokovic, Andy Murray, Alexander Zverev, Richard Gasquet, Tomas Berdych, Maria Sharapova and Sloane Stephens are part of the HEAD Tennis family.
+ Read More