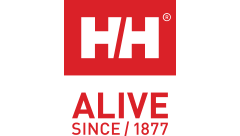 Helly Hansen
Founded in Norway in 1877, Helly Hansen creates professional-grade apparel that helps people stay and feel alive. Through insights drawn from living and working in the world's harshest environments, the company has developed a long list of first-to-market innovations, including the first supple waterproof fabrics almost 140 years ago.
Helly Hansen Solen
The Solen collection offers comfort and sun protection. Its lightweight and moisture managing fabric has UPF 50+ protection, both when wet and dry.
Helly Hansen Odin
Inspired by Norse mythology, the Odin series is developed with and tested by mountain guides around the world to provide the highest level of protection and comfort in any weather condition.
Trust is Earned
Developed from the insights of professionals who are on the mountain and ocean day in and day out, the Spring/Summer 2020 collection com bin es unmatched technologies to keep you comfortable and protected from the elements.
Shop All Helly Hansen
A Blend of Technology and Style
WHAT IS HELLY TECH®? Summer adventures are made possible by Helly Hansen's Helly Tech® jacket innovations. Helly Tech® is a tough weatherproof outer layer, specially designed for the harshest conditions. It is a combination of a DWR-treated outer fabric, a highly breathable and waterproof membrane, and often a highly breathable inner fabric, mesh or lining.
HELLY TECH® IS WATERPROOF. The robust outer layer membrane keeps water out, keeping you dry, even in the most extreme conditions. HELLY TECH® IS WINDPROOF. The outer layer protects you from powerful winds and piercing temperatures. HELLY TECH® IS BREATHABLE. The unique membrane allows sweat vapour to pass through, keeping you dry and comfortable.
Fully waterproof, windproof and breathable fabrics and construction make up Helly Hansen's line of jackets. For all conditions where protection from the elements is needed, choose Helly Hansen.
FJORD TIL FJELL The Helly Hansen identity is captured in our "Fjord Til Fjell" collection. We live and breathe the outdoor lifestyle, motivated by adventures from the fjord and to the mountains! Inspired by the spectacular Norwegian nature, we have developed a collection of multi-purpose, lightweight technical gear that caters to all your adventure and travel requirements. Great looking, practical and functional – this line will work whether you set out for a journey by the fjords, hike up to the top of the mountain or enjoy a simple cup of coffee in the city.
HELLY HANSEN JACKETS, RAINWEAR AND LIGHT OUTERWEAR AT SPORT CHEK
Sport Chek is Canada's outerwear destination. Featuring the top men's and women's HH jackets, pants, rainwear and more, our assortment of ski, rain, shell and light jackets provide you with the neccessary protection you need from the elements. Weather you're looking for a shell jacket, rain parka, insulated pants, insulated jacket or puffy jacket, Helly Hansen outdoor apparel is manufactured to keep you warm and keep you dry. Shop our assortment of HH pants, jackets, backpacks, gloves, beanies, long sleeve shirts, pullovers wool pants and much more. SportChek.ca is your Helly Hansen destination in Canada.