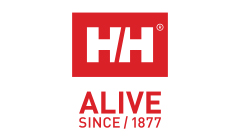 Helly Hansen
Founded in Norway in 1877, Helly Hansen creates professional-grade apparel that helps people stay and feel alive. Through insights drawn from living and working in the world's harshest environments, the company has developed a long list of first-to-market innovations, including the first supple waterproof fabrics almost 140 years ago.
Helly Tech®
Waterproof. Breathable. Guaranteed. Helly Tech® is the outer layer between you and the elements.
Life Pocket™
Life Pocket™ preserves your phone's battery life span by keeping it 3 x warmer vs traditional ski jacket pockets.
Choose Like A Pro
Developed from the insights of ski patrollers who are on the mountain day in and day out, the Fall/Winter 2018 collection combines unmatched technologies to keep you comfortable and protected from the elements.
Shop All Helly Hansen
Helly Hansen's New Jacket Innovations
Winter adventures are made possible by Helly Hansen's innovative Helly Tech® winter jacket innovations. Helly Tech® is the waterproof and breathable outer layer between you and the elements. Its unique membrane will keep water out, while allowing sweat vapor to pass through – keeping you dry and comfortable, inside & out. Helly Tech® is a combination of a durable water-repellant treated outer fabric, a highly breathable and waterproof membrane and a highly breathable inner fabric, mesh lining. The robust outer membrane keeps water out, keeping you dry, even in the most extreme conditions. Fully waterproof, windproof and breathable fabrics and constructions make up Helly Hansen's line of winter and spring jackets & coats. For all situations and weather conditions where protection from the elements is needed, choose Helly Hansen jackets.
Another Helly Hansen innovation, H2Flow™, is a temperature regulation system that was developed with mountain professionals to provide skiers & snowboarders with versatility and comfort in changing weather conditions and fluctuating activity levels. The technology keeps you warm by storing hot air and allows you to cool down through special ventilation zippers.