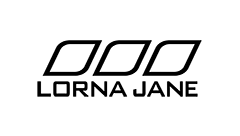 Lorna Jane
Lorna Jane expresses the latest active women's technical fashion in perfect harmony with the demands of urban living. It is the next shape in fashion, where Activewear crosses into ready-to-wear for the modern woman who wants her wardrobe to connect to her active lifestyle.
About Lorna Jane
Lorna Jane's mission is to inspire every woman to realise her true potential through Active Living. This is achieved by moving your body every day, nourishing with the right foods to fuel your body and believing in and loving yourself.
Founder of the brand Lorna Jane Clarkson pioneered the term 'Activewear' over 28 years ago, she wanted to change the way women thought about exercising and so start designing pieces you would look forward to wearing to inspire your next workout. Lorna Jane pieces are designed by women for women and are engineered in their exclusive LJ ExcelTM fabric, world famous for it's coverage, durability and comfort.
Lorna Jane understand how busy women's lives are so created a wardrobe that fits into a busy lifestyle and can move easily with you throughout your day. New collections are released every month including leggings, sports bras to support your every move from yoga and everyday support through to maximum support bras, moisture wicking tanks, lifestyle tops and pants and versatile layering pieces to keep you covered.
+ Read More