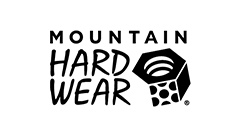 Mountain Hardwear
Our purpose is to build essential equipment for climbers, mountaineers, and outdoor athletes. Mountain Hardwear expedition tents have summited more of the world's highest peaks than any other brand. This level of technical precision continues to inspire everything we do as our designers challenge every stitch and detail to continuously improve both function and comfort.
Introducing the Kor Strata Jacket
Designed for a fall day at the crag, yet warm enough for an alpine start. The Kor Strata's 60g Primaloft® Gold Active Insulation affords the perfect balance of air entrapment and breathability.
The Winter Edition
A warmer addition to our popular Dynama collection, the Dynama Lined Pant is made with lightweight fabric with excellent stretch, and features a poly-stretch fabric with a soft lining, adjustable waistline, and rollable ankle.
Rocklands 2018
Mountain Hardwear climbers Kyra Condie, Jon Glassberg, and Anna Liina Laitinen head to South Africa with a checklist of projects in hand.
Shop All Mountain Hardwear