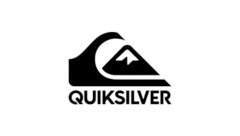 Quiksilver
Quiksilver is an emblematic boardsports brand, founded by a group of surfing enthusiasts in Australia in 1969. True to a unique lifestyle, Quiksilver holds passion, authenticity and innovation to be fundamental values. The brand's identity is represented by its logo, a mountain inside a wave symbolizing its attachment to boardsports and its playgrounds, the sea and the slopes. Quiksilver products cover the whole range of Sandals, Sportswear, Outerwear, Accessories and Boardsports gear. Quiksilver is also intimately associated with the very best athletes and the biggest events in the history of boardsports. Not all product shown may be available.
Boardshorts
Boardshorts aren't just for surfing. They're for going, doing, eating, drinking, sleeping, living. They're for anytime, everywhere. And since you're busy with all that, you need three things: style, comfort and the right amount of tech. That's how we evolve while staying true to Quiksilver's original vision.
REPREVE™
Quiksilver's high quality flat-weave, 4-way stretch fabric is made from recycled plastic bottles, generating a positive reprieve for our planet. This traceable recycled yarn, incorporates optimal sretch providing ultimate comfort in and out of the water.
Generations of Quiksilver
Past. Present. Future. #GenerationsOfQuik is a celebration of everyone who chooses to live in the moment. We're individuals, but we are not alone.
Shop All Quiksilver
At the core of it all, it has changed. Generations of Quiksilver celebrates that by sharing the stories that shaped our brand's past, present and future - because authentic never fades. It is not a history lesson. It's not a message to the misguided youth. It's not a "back in my day". It's about the feeling of now.
+ Read More