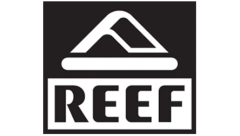 Reef
REEF is the global brand that encourages people everywhere to Beach Freely. United by the spirit of the beach since 1984, REEF designs innovative and comfort-driven products to celebrate the freedom and fun of the beach lifestyle.
Party Starting Technology
REEF have redesigned their legendary bottle opener signature sandal with a lower footbed and slimmer strap. The newly dubbed Fanning Low is the perfect companion to give you a boost into fun.
A Whole New Way To Sandal
Rubber Sandals Revolutionized, No more settling for the flip-flop status quo. With superior strap strength, arch support and 100% PVC-Free materials, Reef Escape sandals give you and mother earth exactly what you deserve.
Reef
Dear Beach Lover,

Reef was founded in 1984 by two brothers from Argentina, Fernando and Santiago Aguerre, who wanted to share their love for surf travel and beach culture with the world. So, they created a high-quality sandal that could keep up with their active (ahem, party) lifestyle. They moved to Southern California to manage the Reef brand and produce the iconic sandal that made Reef what it is today.

Now 30 years later, they're still at it, encouraging people around the globe to embrace the fun, freedom and spirit of the beach while living life by one simple rule: Beach Freely. Whether you're surfing, bar-b-queing, metal detecting, sand castle building, day drinking, guitar playing, or just hanging at the beach...beach any way you want. Reef products are designed to make you feel comfortable, relaxed and free in any environment, whether you're at the beach or not.

And when you love the beach as much as Reef does, you need to take care of it. So, Reef have pledged to help preserve and restore beaches and oceans around the world so that everyone has the opportunity to Beach Freely.

Stay Sandy,
Reef
+ Read More