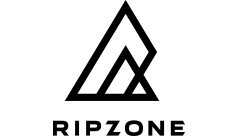 Ripzone
Championing the exhilaration of snow and water sports through unconventional innovation. Ripzone provides quality and style to the motivated athlete through a large selection of apparel and footwear.
Ripzone Online Exclusive Sunglasses
The Ripzone Sunglasses collection features a variety of styles to fit your personality. No matter if you're at the beach or out on a hike in the mountains, these shades are ready for anytime and anyplace.
Ripzone Kids'
The Ripzone kids collection features everything you need from the pool to the playground all summer long.
For those who want what they wear to complement their action-packed lifestyle. Ripzone is a Canadian outdoor sports lifestyle brand that was founded in 1993 with the idea of developing quality, functional and technologically advanced products for the action sports enthusiast. At Ripzone we are as passionate about the products we create as we are for the sports and lifestyle we live and play. Our goal is to design, create and build the most authentic and quality products possible for action sports addicts around the world. Shop our surf, snow and casual apparel and outerwear.
+ Read More