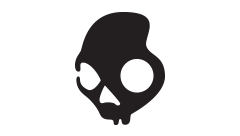 Skullcandy
Check out Skullcandy's New Ultra Secure Sports performance gear that is engineered to help you maximize and enjoy your training time. Stay Loud. Not all product shown may be available at all locations.
Supreme Sound & Premium Materials
Pick up a pair of noise isolating over-ear headphones for uninterrupted music sessions, or find a pair of on-ear headphones built for durable, long lasting comfort & style.
Looking for earbuds?
We've got what you need in wired and wireless varieties, wrapped in fresh colours and style
Skullcandy is for music you can feel. For front rows. And first chairs. Demo tapes. And dropping in. Deep cuts. And dawn patrol. Because they don't believe in tuning out. They believe in tuning in. Discovering new bands that push us forward. And classics that take us back. It's why they make products that connect us to music on a physical level. So you can feel the soul in the lyrics. And the bass in your bones. Because music is all about feeling. It's the soundtrack to our celebrations. Our revolutions. And new creations. Skullcandy doesn't want you to just listen to music. They want you to feel it.
+ Read More