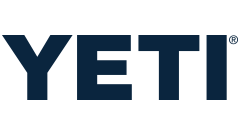 YETI Coolers, Ice Chests, Tumblers & Mugs
YETI is known for over-engineering every product they make, from your morning coffee cup to your fishing haul to a well earned afternoon lunch break to an ice cold drink around the campfire, you know you can trust the rugged durability of YETI to stand up to anything you can throw at it.
What started as a need for a high quality, durable cooler that kept ice cold as long as a fishing or hunting trip has evovled into a full line of hard and soft coolers and the Rambler drinkware collection which includes Tumblers, Bottles, Coffee Mugs, Lowball glasses and more. The YETI Tundra collection not only keeps ice frozen for days but is built to withstand a grizzly bear fishing for a free meal. The YETI Hopper is a soft cooler that's designed to be waterproof and the YETI Rambler collection keeps your coffee as hot or beer as cold as science allows.
Don't settle for less, trust YETI to stay by your side during all your wildest outdoor adventures.
No matter where you're headed, YETI coolers are your go-to choice for your backcountry and outdoor adventures. YETI manufactures a variety of ice chests, cups, thermoses, tumblers, mugs and coolers suited for life in Canada. Find the best coolers & ice chests available for sale online at SportChek.ca