Jumpstart Month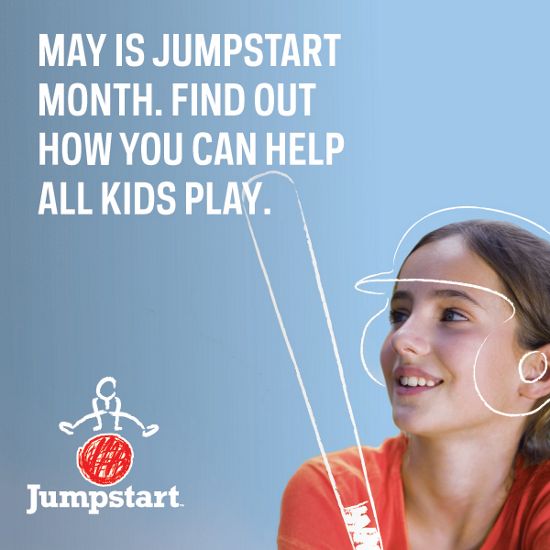 RED BALL CAMPAIGN: Give a $2 donation at any Sport Chek or Atmosphere store between May 1 - 31, 2016 and receive a red Jumpstart ball.
Find a Sport Chek location near you
PRODUCTS THAT CONTRIBUTE TO JUMPSTART: A portion of the proceeds from these golf and tennis items will be donated to Jumpstart to help kids play.
DONATE DIRECTLY: Help give back directly with donations to support helping all kids play
About Jumpstart
What is Jumpstart? Jumpstart is a national charity with a commitment to local communities. Jumpstart Charities gives kids a sporting chance. Participating in sport helps kids develop physical and social skills. It helps build self-esteem. By helping kids get into the game, we're equipping them with determination. And we're giving them confidence that will extend beyond practices and games. Jumpstart is more than just about getting kids active. It's about giving kids from families in financial need the same chance to participate as their neighbours, their classmates and their friends. Whether it's the chance to try a new sport or to continue with a favourite one, no kid should be left out. The vision of Jumpstart is simple: Canada, where all kids have a chance to fulfill their dreams.
In Canada 1 in 3 families cannot afford to enroll their kids in organized sports. That's almost 750,000 kids every year who want to play, but just can't. Jumpstart can help. Jumpstart funding helps families that need a financial hand with the costs associated with registration, equipment and/or transportation. Jumpstart works with an extensive network of local Chapters in communities across Canada. These Chapters include organizations such as local Parks and Recreation Departments and Boys and Girls Clubs. The organizations that make up the local Chapter help identify kids in need who wish to participate in sports and physical activity.
Money raised within each Chapter stays within the community and goes directly to help kids participate in sport, dance or other organized physical activities.
Since 2005, more than 1 million kids between the ages of 4 and 18 have been helped by Jumpstart. That number grows every day.
Jumpstart in the Community
Ambassodor Testimonials
Rosie MacLennan
"You can look at trampoline and say, 'Oh, they're just jumping.' But it's really so much more than that. Maybe initially my parents putting me into sports was about keeping me out of mischief or making me tired or whatever it was. But it helped me build my confidence, find my voice-first in that world, and it's now carried outside of that world. I know I can face a challenge or an obstacle, look at it as an opportunity to learn, and have the strength to get through it. I learned that through sport."
Hayley Wickenhiser
"The skills kids learn through sport such as determination, never giving up, group dynamics, etc., are all skills that develop them and benefit them as people, not just athletes. Perhaps they will apply those skills as a doctor, a lawyer, a bank CEO, a retail manager, a mother, an executive director, a philanthropist or perhaps they may one day stand atop a podium. In any case, when Jumpstart provides access to sport for all children, it does more than build people, it builds our community."
Mark McMorris
"Sport and physical activity have been an important part of my life for as long as I can remember. Playing sports helped me in so many ways, from increased self-esteem and confidence to adopting good habits and leading a healthy life. I'm thrilled to be a Jumpstart Ambassador so I can help other kids benefit in the same ways I did."
Charles Hamelin
"Through sport you learn how life works. If you don't work hard, if you don't believe in yourself, if you don't have fun, you won't get the results you want. If you miss some training because you didn't want to do it or you don't stretch because it takes too long, those things will eventually affect the result. But if you put all the effort in, all the energy you can, most of the time you will have better results – better than you even expected."
Volunteer with Jumpstart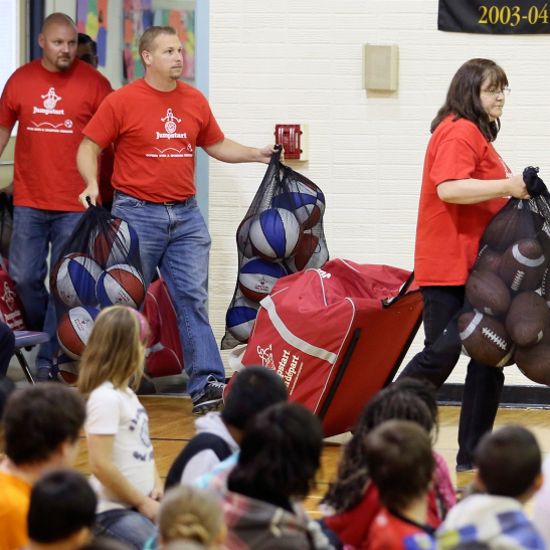 "There is nothing more rewarding than seeing a child smile when they realize they are going to participate in their sport of choice and knowing you had a small part in making that smile happen."
-Craig Anger, District Manager, Sport Chek Calgary South
"Jumpstart is important to us as it gives us the chance to give back to our communities and help children be given the chance to try a sport or activity. Knowing that every dollar we raise or event we do will bring many happy moments to children is why we believe in and support this wonderful cause."
-April Houle, Store General Manager, Sport Chek St.Laurent Ottawa, Ontario
"Through participation in sport, children learn valuable life skills such as honesty, team work, respect, motivation, etc... They learn how to push themselves to reach their full potential to achieve what they once thought was impossible. We have the chance to help so many children play who may not have ever had the chance by raising one small dollar at a time. Who knows, maybe we can help develop the next Wayne Gretzky, Michael Phelps, Mia Hamm or Clara Hughes."
-Tina Boyd, Store General Manager, Sport Chek Lynden Park Brantford, Ontario
"Raising funds for Jumpstart is a way for all of us to give back to our community by helping kids who can't afford to play sports. Our team is committed to supporting the Jumpstart program and initiatives throughout the year. Every Kid deserves to play"
- Cory Forsyth, Store General Manager, Sport Chek Metrotown, Vancouver