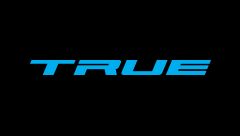 Item #: 332720425
The True A4.5 HT Intermediate Hockey Stick is designed with optimized weight distribution and BRT+ Blade Technology for improved durability and performance. The 58 flex provides even more kick and quick release without sacrificing feel and control.
Features
BRT+ blade technology produces a lighter, more durable blade so weight can be redistributed into the shaft for extreme impact strength and increased durability.
Industry-leading one-piece Axenic construction allows for optimized distribution of weight throughout the stick for unmatched balance.
SmartPly Technology: Up to 25 layers of optimized, unidirectional carbon fiber angles in a single shaft for the perfect combination of weight, balance, and impact strength.
Swing Weight: Low Swing Weight for enhanced mobility and harder, faster shots.
Specifications
Weight: Intermediate 425g, Swing Weight* 677 (Senior)
Length: 56"
*Swing Weight Vs Actual Weight: Swing Weight is not directly related to the weight of a stick, but rather how the weight of the stick FEELS during play.