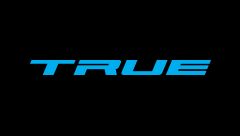 Item #: 332559878
Hair Trigger – Power and Quick Release
The TRUE A6.0 HT Gen II Senior Hockey Stick will put you in a position to score from any position with ultimate response and a lightning quick release. TRUE Hockey continues to explore the science behind creating the feeling of a lighter stick by reducing the overall Swing Weight and optimizing weight distribution. What does this mean for you? Maximum durability and ultimate performance. It's an engineering marvel. That's TRUE.
Features
Strength: BRT+ blade technology produces a lighter, more durable blade so weight can be redistributed into the shaft for extreme impact strength and increased durability.
Balance: Industry-leading one-piece Axenic construction allows for optimized distribution of weight throughout the stick for unmatched balance.
Power: Optimized for ease in energy loading, the new A6.0 HT produces quick power from any shooting position.
Swing Weight: Low Swing Weight for enhanced mobility and harder, faster shots.
SmartPly Technology: Up to 25 layers of optimized, unidirectional carbon fiber angles in a single shaft for the perfect combination of weight, balance, and impact strength.
Low Kick-Point: Flex point near the hosel for quick loading and release.
Specifications
Weight: Senior 415g, Swing Weight* 614
Length: 60"
*Swing Weight Vs Actual Weight: Swing Weight is not directly related to the weight of a stick, but rather how the weight of the stick FEELS during play.