TECHNOLOGY TO BOOST YOUR STRIDE
The right running apparel gives you the ability to train through any conditions, support your muscles, and stay safe in the dark. Whether the temperature spikes in the summer or drops in the winter, sweat-wicking apparel will help regulate your core temperature. Compression apparel like socks, pants/tights and tops can stabilize muscle groups and improve blood flow for greater speed and endurance. And strategically placed reflective gear will keep you safe whether you're running before the sun comes up, or after it sets.
Moisture Control/Sweat Wicking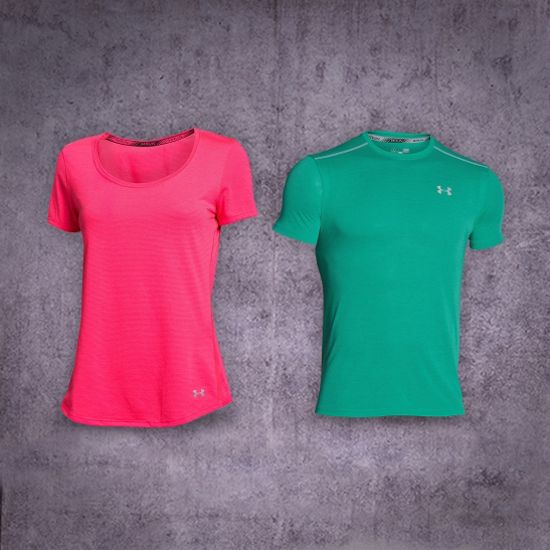 Your ability to maintain an optimal body temperature when running depends greatly on your ability to manage sweat. Perspiration is the body's natural way of regulating heat. Getting too hot? Sweat is released to cool you down.
Sweat-wicking apparel is designed to literally wick sweat away from your body as you perspire. The material is constructed in such a way that it creates miniscule gaps in the weaves between the fabric, allowing just enough space for sweat to push away from your body where it ends up more evenly dispersed on the outer layer of your clothing and quickly evaporates.
When it's hot you can keep your core temperature low. When it's cold you can avoid a buildup of moisture close to your skin where it will likely freeze and keep you chilled. Sweat-wicking clothing that delivers thermoregulation is especially critical on long runs where the effects of having a core temperature that's too low or too high can affect your performance, and health.
Compression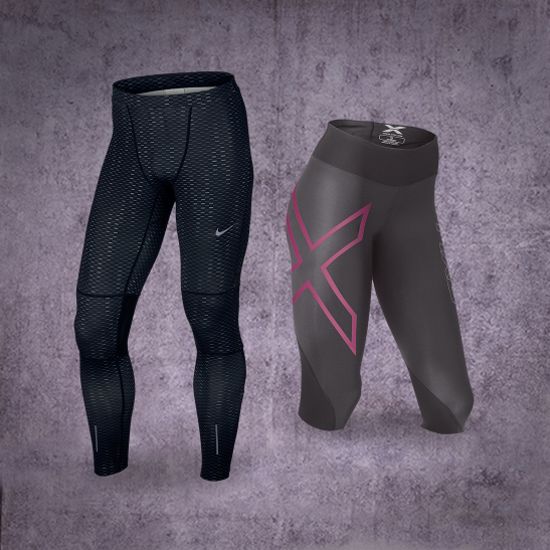 It's more than just tight clothing. Compression apparel including socks, shorts, pants/tights, and tops are designed to enhance your training and performance. By constraining select muscle groups more tightly on the edges of the garment (near your extremities), blood flow is directed inward toward your heart. This aids in oxygenation of the blood and in turn can deliver big benefits:
Relieving sore and stiff muscles after a strenuous run
Speeding up recovery time of your muscles
Helping your muscles stay strong (well oxygenated), preventing seizing and regulating lactic acid buildup in your legs
Compression socks and pants/tights are especially beneficial for runners—long distance, mid distance and sprinters—because of the added level of support and stability they provide your legs. Constraining the muscles in your legs prevents them from oscillating while running. Keeping your leg muscles in place, stopping fluctuations of all types to a large degree, massively reduces soreness and prevents strains.
People suffering from varicose veins will also benefit from the added circulation provided by compression apparel. Sport Chek carries medically graded compression socks for those diagnosed with varicose veins and other altitude ailments. You can do more to avoid injuries like shin splints, calf cramps, Achilles' tendon issues, and pulled muscles.
Reflective Gear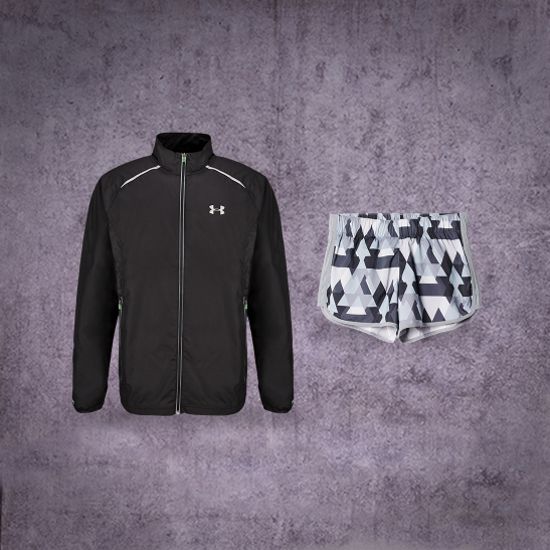 Do you run in the early morning or late in the evening when the sun goes down? Staying visible is critical to your safety when running during low-light hours.
Reflective strips are normally strategically placed on running garments to help make it easier for motorists, cyclists and other people to see you. The best clothing will have 360 degree reflective coverage and also include reflective strips higher up on your body to ensure the light you reflect back at drivers and others is at eye level.
Take your safety game up a notch with a headlamp designed for runners like you who put their kilometres in during the morning or night hours. These lamps are engineered to stay properly secured to your head and make it almost impossible for people to miss you on the road.

Need help selecting a new pair of shoes to compliment your apparel? Check out our Running Guide
This article and post is designed for educational purposes only. When participating in any exercise or exercise program, there is a possibility of physical injury. Please consult with a doctor prior to engaging in any exercise or exercise program. The use of any information provided is solely at your own risk. Product selection is an individual choice and the consumer is responsible for determining whether or not any product is suitable based on the consumer's circumstances.