It's More than Just Shoes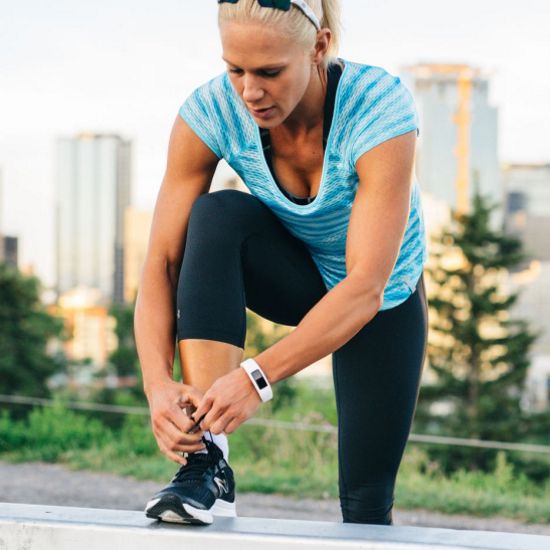 No runner gets far without a good pair of shoes -- but if you're serious about this running thing, there are a few more essentials you can't do without. After all, you won't get far if you're freezing, blinded by foul weather or seriously dehydrated, either.
Hydration gear
You've heard that by the time you feel thirsty you're already dehydrated, right? Well, it's true -- and while you don't need to carry a water bottle on short runs, you should carry a CamelBack, hydration belt, or something similar on long runs. Think of it as being your own portable aid station.
Weatherproof outer layers
Serious runners train in even bad weather. While some superhuman willpower may be involved, their secret is making sure they're properly dressed for the elements before they step outside the door. Sometimes having a feather light, weather-resistant jacket makes all the difference between a successful training run and having to retreat before you get hypothermia.
Consider an electronics boost
No runner should ever be without a stopwatch -- it's the one measure of performance that you can always depend on to be completely objective. You might not needother electronics, but if you're the sort who digs running to a fast-paced playlist or counting every step you take, having an MP3 player or activity tracker along can be a powerful motivator. And hey, both of those gadgets probably have a stopwatch built into them.
Watch your eyes
Wearing a visor or sunglasses might seem like a small detail -- but as soon as you start that 3-mile run straight into the sun, it becomes hugely important. And if you happen to wear glasses, having some substantial brim over your face is the only way you'll be able to see once heavy rain or snow starts falling.
Even if you don't feel the need to cover your head, at least carry a headband to keep your ears warm and sweat out of your eyes during those tough workouts. Not having to swipe at your face every few steps makes any long run feel easier and more pleasant.
Start with the shoes
If you can only splurge on one piece of quality running gear right now, definitely start with the shoes -- they'll help keep your body healthy as you log those training miles. But once you're able, Sport Chek is the place to score great deals on the other essentials in this list.
This article and post is designed for educational purposes only. When participating in any exercise or exercise program, there is a possibility of physical injury. Please consult with a doctor prior to engaging in any exercise or exercise program. The use of any information provided is solely at your own risk. Product selection is an individual choice and the consumer is responsible for determining whether or not any product is suitable based on the consumer's circumstances.