From our pro to you, get 10 tips for improving your running enjoyment and race performance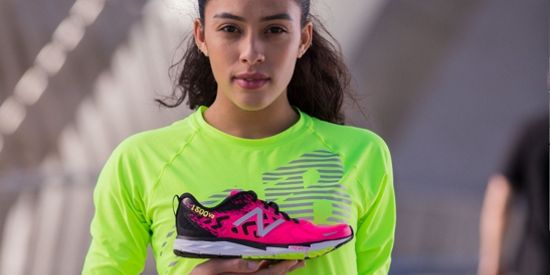 When Sport Chek's dedicated national footwear trainer and high-performance runner Goran Miletic isn't in-store sharing his expertise with employees, you might find him on running trails anywhere between Victoria and Halifax. Now he's agreed to share with our readers his best practices for getting the most out of running whether you're just getting started, gearing up for your first race, or looking to improve a personal best.
TIPS TO START RUNNING
One of the biggest hurdles when you're just getting started as a runner is finding the motivation to get out there and cover the kilometres you need in order to form good habits and improve performance.
1) GET A CREW
Every runner is different. Some people like to run because it helps them clear their mind, while others really appreciate the added motivation and encouragement that comes with having friends around. If you're just starting, find a group of people to run with. You'll either find out that you really enjoy having other people to push you or that you prefer to run alone. By the time you decide, you'll likely already have formed good habits and made running a consistent part of your life.
2) TREAT RUNNING LIKE WORK…
Until it isn't anymore. If you're committed to making running part of your life, make your runs as important as being at work on time. All you have to do is schedule you runs like you would a shift or a meeting. If all your runs are set for 9 am, soon you'll feel like something is missing from your day if you skip it. The same goes for lunchtime or evening runs, as well.
3) STAY HYDRATED
The average person should be drinking two litres of water a day. And too few people do that. But racers tend to overthink it so that's why having something like a hydration belt or backpack with you is so helpful because you're able to keep a very close eye on how much water you're getting. Too much and you might feel bloated and slow on race day. Too little and you simply won't perform at your best.
Remember, if you're thirsty it means you're already dehydrated.
4) LOAD UP ON CARBS
All the hype you've been hearing about carbohydrates being essential for performance is real. Your Little League coach wasn't wrong when he told you to eat pasta before a big game. To get more specific though, you should be loading up on complex carbohydrates for a few weeks before the race. Foods like brown rice and quinoa are burned more slowly by your body, providing long-lasting energy for physical activity. The days leading up to the race, switch to simple carbohydrates like white pasta because these foods are burned more quickly by your body. The starch in simple carbohydrates is converted into sugar which delivers a big spike in energy that lasts for a short period of time.
TIPS FOR BEFORE A RACE
If you're already a few months into your running career and you're feeling ready to tackle a race like a half-marathon, there are a few ways you can enhance your performance that have little to do with the actual kilometres of the race.
5) MAKE A RUNNING RITUAL
Create a ritual for before and after your run, and stick to that ritual on race day. Before your training runs, do a series of warmups including dynamic stretching, sprints, static stretching, anything that gets your blood flowing and makes you feel nimble. After your runs, find a way to wind down slowly including gentle and slow runs for 10-15 minutes and rolling out your muscles using a foam roller. Your running ritual should also include the food you eat. If you normally eat something simple and have caffeine before your runs, do exactly that on race day.
6) GET A SECOND PAIR OF SHOES
One way to help build up a wider range of muscles in your legs and feet is to invest in a second pair of running shoes while you're still in training for the race. If you already have shoes with sufficient stability, try running in a pair of race flats to change things up. And if you're currently running and training in minimalist style race flats, try something with more cushioning and support. It's important to run in both types of shoes an equal amount before the race.
7) STAY NERVOUS
If you're feeling anxious as the race date approaches, don't try to fight off that nervous energy. Feeling a little uncertain is perfectly normal. It's one way for your body to prepare itself for the physical and mental strain you're about to put on it. But instead of sitting around feeling stressed, find another activity you can engage in that will put your body and mind to use. Go for a light hike, ride your bike, swim a few laps. Anything to get your mind off the race without actively trying to avoid the stress you're feeling (like sitting around in a hot tub).
TIPS FOR AFTER A RACE

After you've finished your race, whether you crawled across the finish line or you blew past your personal best, there are a few things you should do to ensure the next few hours and days go well for you.
8) DON'T STOP MOVING
Your instincts may be telling you to lay down on the soft grass and doze off, but it's very important to help your body gradually cool down after a big race. Go for a light 10-15 minute run to keep the blood flowing and help your body flush metabolic waste properly.
9) WEAR COMPRESSION GEAR
Get calf and arm sleeves or full tights and shirts if you prefer. Wearing compression gear after your run will help reduce the amount of swelling in your muscles and reduces recovery times. Your legs will also benefit from the added stability compression gear brings because your lower extremities are likely highly fatigued from the race.
One last thing:
10) GET COMFORTABLE
Remember, the right running gear for you is the running gear you're comfortable in. Find the shoes, clothes and tech that work for you and stick with it.