Your Perfect Fitness Tracker: Run Better, Live Better
A fitness tracker isn't just a workout accessory, it can be an essential part of your healthy lifestyle. Wear it all day, every day to reap the full benefits and make your health a priority.
Just like your diet and your workout wardrobe, the right fitness tracker for you depends on your current fitness goals and level of training.
Are You a Casual Runner?
Maybe you've only been a runner for a few months or don't consider yourself a runner yet because you're still just getting started. One of the first things any pro runner will tell you is to take your gear seriously if you want to improve your running and your enjoyment of it. Just like the right shoes and clothes will enhance your experience, so can the right fitness tracker.
To help you get from an inefficient jog around the park to a smooth, powerful 5k or 10k run, look for a fitness tracker that has the basics for any good run.
Polar M200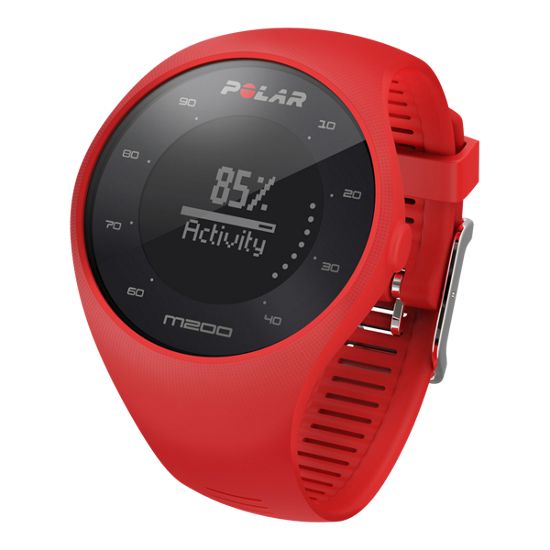 Built-in GPS tracks distance, pace and duration
Wrist-based heart rate monitor
Personalized and adaptive training programs
Performance data & insights
Calories burned
Sleep tracking
Cell notifications
Multi-activity tracking
Waterproof to 30 metres
Social media sharing
Garmin Forerunner 25
Built-in GPS tracks distance, pace and duration
Personalized training programs
Performance data & insights
Calories burned
Multi-activity tracking
Cell notifications
Waterproof to 50 metres
Sleep tracking
Live tracking
Social media sharing
Heart-rate monitor chest strap (sold separately)
Now Featuring Improved Performance
The simple act of collecting reliable data about your runs will help you make meaningful adjustments to how you perform and can lead to major improvements. Both the Polar M200 and Garmin Forerunner 35 can give you real-time stats on your pace and distance as you run and can also help you develop a training plan for reaching your next goal. Cell notifications come straight to your wrist with both watches, making it easier to stay focused on your activity while still staying connected.
The Forerunner 25 and Polar m200 allow you to track your progress during other activities, as well. From yoga and cycling to cross training and high intensity weight training, use your fitness tracker to measure heart rate, distance and overall progress.
An additional feature that most fitness tracker users don't take advantage of is the sleep tracking functionality. Trainers all over the world champion the importance of sleep as an integral part of your training and performance as well as a key part of your physical and mental health. You can measure the quality and duration of your sleep to make critical improvements to your rest and wellbeing.
Garmin Forerunner 35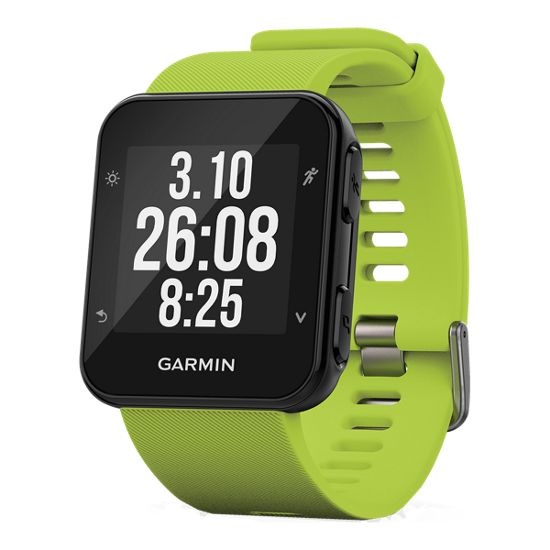 The Garmin Forerunner 35 is similarly equipped to the Polar M200 and the Forerunner 25 but features built-in heart rate monitoring as well as more advanced training programs.
Built-in GPS
Music controls
Cell notifications
Built-in heart rate monitor
Performance data & insights
Sleep tracking
Waterproof up to 50 metres
Live tracking
Multi-activity tracking
Calories burned
Social media sharing
A major improvement with the Forerunner 35 is the introduction of Intensity Minutes. Based on research from the World Health Organization, it's recommended you receive 150 minutes of moderate activity every week. Because the built-in heart rate monitor is calculating your heart rate at all times throughout the day, it's able to determine whether you're meeting that 150 minutes of moderate activity by adding up your light activities and your intense activities.
Live tracking is another advantage offered by both the Garmin Forerunner 25 and 35. It allows you to share real-time GPS data in the form of a live map with anyone you choose. Simply select which people you want to view your data and they'll get a notification once you begin a new activity and start the timer on your device. They can follow the link to a live map where they'll watch your progress and performance until you're finished. Now there's no such thing as running alone at night.
Are You Ready to Master Your Run?
If you're thinking of taking your running career more seriously, you might want to upgrade your fitness tracker to fine-tune the training and performance insights you're receiving.
Fitbit Surge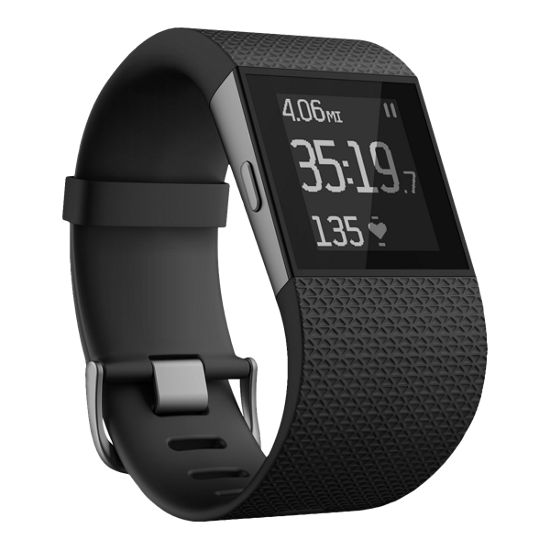 Built in Heart Rate Monitor: provides round-the-clock data during workouts, walking, and rest
Streamlined design and touchscreen: comfortable strap styled for everyday (and night) wear; large easy-to-read display
Cell notifications: alerts sent to your tracker for incoming calls and texts
Sync data wirelessly and automatically: performance insights and data sync effortlessly to your Fitbit account
Sleep tracking
Water resistant
Calories burned
Multi-activity tracking
Social media sharing
Fitbit also utilizes Smartrack automatic activity tracking. Once you start moving, automatic exercise recognition technology kicks in to determine the type of activity you're engaging in (light walking, fast-paced activities, or high-intensity running) and begins monitoring it, measuring it and tallying it up in your Fitbit app.
It makes it easier to ensure you're getting credit for all the hard work you put in and gives you a clearer picture of your workout history and progress.
Once you're logged into the Fitbit app, you can view your progress and set personalized training goals for yourself based on the type of training you need.
New Balance RunIQ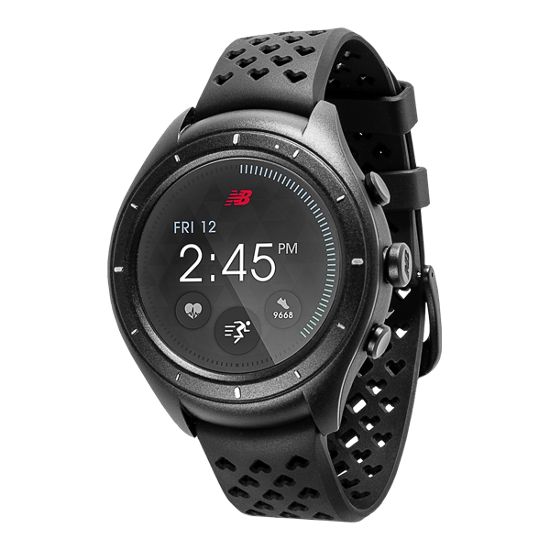 Built in music storage: upload and listen to your Google Play playlists without your phone, via Bluetooth headphones
Built in GPS: track pace, distance, and elevation
Built in Heart Rate Monitor: provides round-the-clock data during workouts, walking and rest
Cell notifications: alerts send to your tracker for incoming calls and texts
Sleep tracking
Full colour touchscreen: bright, responsive touchscreen in full colour; styled for everyday use
Comfortable Strap: designed to be breathable for all-day comfort
Social media sharing: connect to one of the world's largest fitness communities via Strava
Water resistant
Calories burned
Multi-activity tracking
On top of the advanced performance metrics provided by the New Balance RunIQ, the full-colour digital touchscreen and comfortable wrist band make it the kind of fitness tracker you want to wear outside the gym. You can wear this stylized piece of fitness tech to the office without ruining your professional look. And the more reasons to keep wearing the tracker, the more likely you are to keep wearing it all day, prompting you to stay focused on your health throughout the day.