Soccer is a game played almost exclusively with the feet, so soccer cleats are the essential tool in a player's arsenal. What differentiates soccer cleats from other types of cleats is the design is all about touch and ball control.
Types of Soccer cleats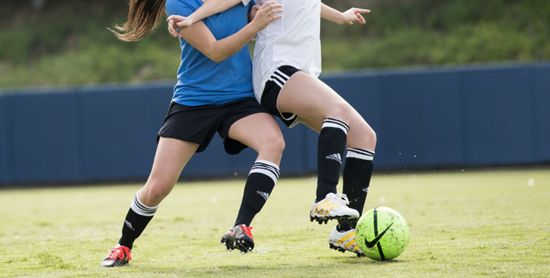 Indoor vs Outdoor cleats
Outdoor soccer cleats have large sturdy plastic studs for digging into the grass of a soccer pitch.
Indoor soccer shoes feature smaller rubberized studs or gum rubber outsoles for great traction on the turf of an indoor field.
Molded vs detachable cleats
Molded outdoor cleats have a plastic or rubber sole with the grippy studs firmly attached.
Detachable outdoor cleats have adjustable spikes so a player can modify the length of the studs to correspond to different field types. These are used far less frequently.
Characteristics of Soccer cleats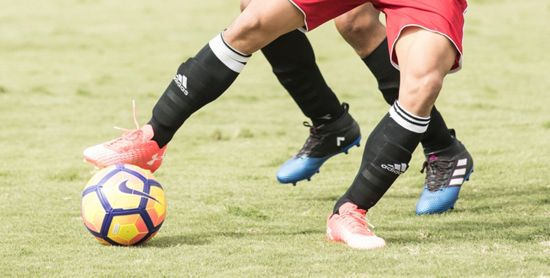 Studs
The studs at the bottom of the shoe are there to provide enhanced traction during soccer, prevent sliding and facilitate acceleration and quick direction changes. The cleats are designed to dig into grass - soccer's typical playing surface.
Boot
Soccer cleats are characterized by a very narrow, tight fitting boot, providing a player optimum maneuverability and control. The cleat should mimic the shape of the foot as closely as possible for ideal ball control.
Soccer cleats exist in both leather and synthetic form. Leather offers a soft, moldable fit, with a higher price tag and great durability. Leather cleats also absorb a lot more water than a synthetic upper, and are not recommended for regular play on wet fields. Synthetic boots tend to perform better in wet conditions and dry out more quickly than a leather boot will. A synthetic pair of cleats is ideal for new or intermediate players.
Tongue and laces
The tongues and laces of soccer cleats are also designed with maximum ball control in mind; soccer cleats attempt to have the lace area of the shoe as flat as possible. This enables a player to truly control where the ball will go when kicked, with no surprises.
Cushioning
Soccer cleats have minimal cushioning in the midsole - in order to maintain the lightweight design, touch and ball control. They are optimized for a player's touch and feel.
When Shopping for Cleats...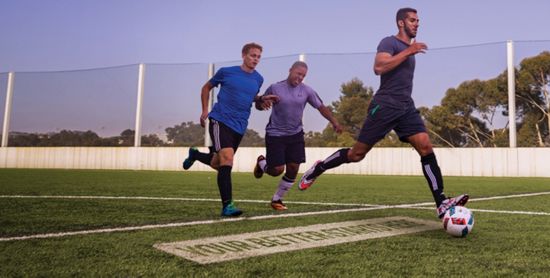 When you're shopping for new cleats, be sure to bring your shin guards, socks and any foot or ankle braces or orthotics you may use; try the shoe on with all the rest of your gear in place to make sure to get a comfortable fit:
Like any other shoe purchase, try both cleats on to ensure that the fit is comfortable for both feet.
Soccer cleats are generally narrow in fit, and will feel much more snug on your foot than your regular shoes - this snugness should hug but not feel like it's cutting off circulation.
That being said, the shoes still ought to be wearable enough that you can tolerate them for the duration of a game.
Remember that the uppers on most cleats with stretch and form to fit over time.
This article and post is designed for educational purposes only. When participating in any exercise or exercise program, there is a possibility of physical injury. Please consult with a doctor prior to engaging in any exercise or exercise program. The use of any information provided is solely at your own risk. Product selection is an individual choice and the consumer is responsible for determining whether or not any product is suitable based on the consumer's circumstances.