Hitting The Ice - Back To Hockey 2018
With the winter fast approaching, hockey season is just around the corner. Are your kids ready to lace-up their skates, tape their stick and get back out on the ice? If you're a new "hockey parent", you may be wondering where to begin. Sport Chek has all the equipment you need active with hockey. As many seasoned hockey parents know, it all starts with the right gear. That's why we've put together a list to help you choose the best hockey stick and skates, to help ease you into the hockey season. It's also Sport Chek's Back to Hockey sale, which means you'll be saving money on everything you need.
Hockey Sticks 101

How Do You Pick The Rught Hockey Stick?
While all hockey sticks used to be made of wood, most hockey sticks today are made from a composite material. This is because composite hockey sticks are lightweight, don't absorb water, don't warp, and generally last longer. There are two types of composite hockey sticks; Those with a separate blade and shaft and those made as a one-piece. However, since two-piece hockey sticks can loosen over time, one-piece sticks are the most popular due to their reliability. Sport Chek carries the best hockey sticks from C.C.M., Sherwood, Bauer, True, Easton, Crosby & more.
When looking for a stick, first consider the age of the player:
Kids Under 7 - Youth
Kids Over 7 - Junior or Intermediate
Adults (13+) - Senior
Next, :you'll want to consider a variety of features. If you're looking to buy a hockey stick for your child, this or may not be as important. If they're new to hockey, any stick will do at first. If they're a seasoned player, it's time to find the perfect stick for them.
Flex - The stick flex comes down to personal preference. Some players like to have a higher flex rating for better puck handling while other players might like a stiffer stick, which can lead to a stronger slap shot. When buying in-store, always play around with the stick flex to see what's most comfortable for you or for them. Remember that preferences may change with experience.
Curve - This determines what your shot and puck control will be like. There is no real way to know which curve is best without practicing first. . To start, you need to identify the kind of player you are and what kinds of shots you will be taking. The position you play and what level you play will also determine the curvature of your stick. Players requiring more puck control might opt for a more curved blade.
Lie - The lie is the angle the shaft and blade make when the blade is flat on the ice. Players who skate upright are going to want a higher angle lie, like a 6. Players who skate with more of a lean, lower to the ice, will want a lower lie, like a 4. Most sticks come with curves in a mid-lie around 5 or 5.5.
Kickpoint - The kickpoint is the location of the shaft that flexes when taking a shot. Most sticks come with a mid flex point, flexing between the players hands when shooting. Some manufacturers taper the shaft as the stick gets closer to the blade, creating a low kick point and adding to the shots power. Bauer has introduced Intellisense flex points within its Vapor line, which allows your hand placement to determine the sticks upper and lower flex points. C.C.M .offers similar features in their sticks to create kick points that respond to how the stick is held. Easton and Warrior also have new features that create a low kickpoint and make for a quick hard release.
Grip - Grip is a semi sticky coating along the shaft of the stick to absorb impact and make the stick grip to a players hands. Reebok recently came out with a dual grip stick. It has a clear finish on the bottom, which allows the stick to slide freely along the fingers while providing a top grip against the palm area, which makes it easier for taking shots and passes.

Hockey Skates 101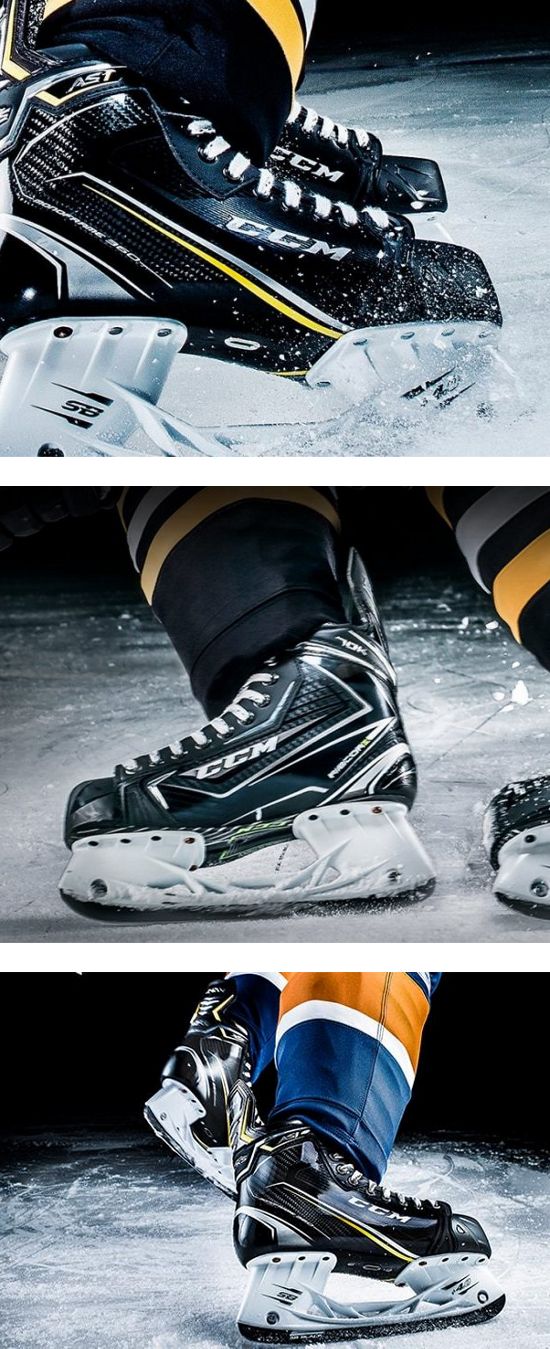 How Do You Pick The Right Hockey Skates?
Choosing a pair of skates is like choosing a pair of shoes, except the fit is different. Skates will most likely not be the same size as a normal shoe. However, it's very important to fit the skate properly, as it would be uncomfortable otherwise. A skate that's not the correct size could also cause performance issues, as well as blisters and injuries. This is why second-hand skates are not a good option. Skates will mould to the shape of the player's feet over time, providing more comfort and stability. However, when a different pair of feet is introduced to a pre-owned pair of skates, the fit will never be perfect.

Skate fit depends on your age, level of play, position and overall preference of feel. Forwards may prefer a lighter, low-profile skate built for maximum speed and agility, while defensemen may want a sturdier and more balanced skate that offers greater protection while blocking shots.
Once you have selected your brand and model, reference the size charts below based on your regular shoe size to select the right hockey skate size. Most popular skate brands are designed to fit 1 to 1.5 sizes smaller than your regular shoes.
When trying on a pair of skates, always wear skate socks that you would normally wear in a game or practice to ensure optimal fit. When trying them on, your skate should feel snug and your toes should barely touch the toe cap.

Now lean forward while in your skate. Your toes should no longer touch the toe cap and the heel should be snuggly locked into place without any excess movement.

Lastly, be sure to give your skate a chance to break in. Because of new skates' rigidity, it is normal for your feet to be a bit sore after using them for the first time.