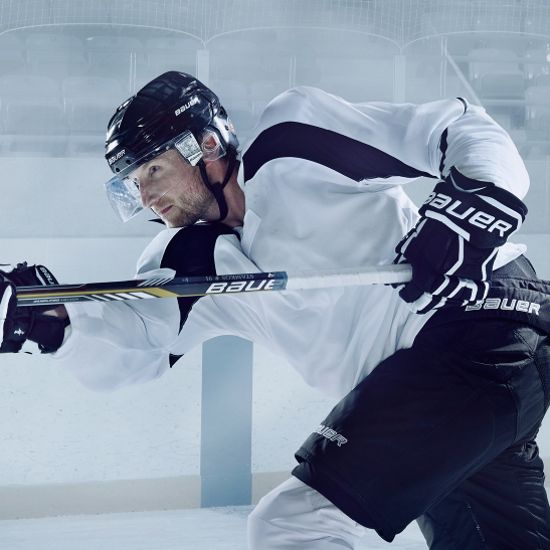 Hockey is undoubtedly one of Canada's favourite activities. People here love to watch it -- but they also love to play it! If you're interested in taking up hockey, one of the first things you'll want to do is get your own hockey stick. When it comes to choosing a hockey stick, not all sticks are created equally, and some sticks will end up fitting players better than others. Want to learn how to ensure you select the right hockey stick? Check out the helpful guide below.
Size
Hockey sticks come in a variety of sizes, and choosing the right one means you'll have the ability to make proper contact with the puck and skate comfortably. To understand stick size, you should know that sticks come in four sizes: senior, intermediate, junior and youth. There is no rule of thumb when it comes to choosing stick size, and the safest way to find the right stick is to choose a stick by finding the right one for your height and weight.
Flex
After choosing the proper stick size, you'll want to ensure you pick a stick with the proper flex. Flex refers to how much your stick will flex when shooting the puck. The higher the flex of a stick, the less it will bend. Flex numbers range from around 40 to 110, and those that want a stick that's very stiff should choose a flex of 110. Players who want something standard should opt for a flex of 85, while shooters who are looking for something with a lot of give -- especially appropriate for young hockey players -- will want to choose a flex that is about 50.
Curve
The final consideration to keep in mind when choosing your stick is its curve. Sometimes called a blade pattern, the curve of the stick determines what your shot feels like and how you control the puck. Choosing a curve is primarily based on personal preference, what position you play and where you'll spend the most time on the ice. Players who are not sure might choose a neutral curve to start out.
This article and post is designed for educational purposes only. When participating in any exercise or exercise program, there is a possibility of physical injury. Please consult with a doctor prior to engaging in any exercise or exercise program. The use of any information provided is solely at your own risk. Product selection is an individual choice and the consumer is responsible for determining whether or not any product is suitable based on the consumer's circumstances.