FINDING THE RIGHT FIT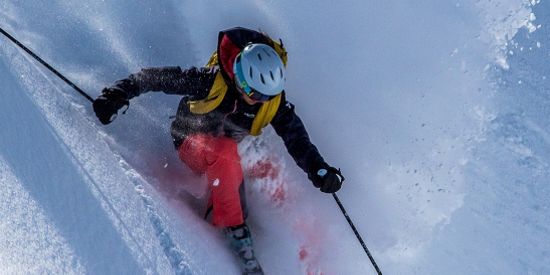 Bring your ski helmet with you when selecting ski goggles or purchase the two at the same time. It's important these two items fit well together when worn. Here are a few things to remember when trying on ski goggles:
Face Seal – The face seal around the lenses should be consistent and snug across your forehead, outer eye socket and the bridge of your nose. The frames should feel comfortable and not create pressure points on your skin.
Helmet Compatibility – With the goggle strap on the outside of the helmet, your goggles should feel snug and have a consistent fit on your face. The top of the goggles and your helmet should fit together comfortably as well. Check for 'goggle gap' between your helmet and goggles – this lets in cold air and snow.
Air Flow – Ensure the venting system on your ski goggles is compatible with your ski helmet and that the front of your helmet doesn't block the vents on your goggles.
Do you wear glasses?
Goggles are not typically designed to accommodate glasses because the frames of your glasses may rub against the goggle's lenses and the earpieces can disrupt the seal of the googles on your face. When choosing a helmet, look for "glasses compatible" or "OTG" goggles intended to be used with glasses. Goggles labelled "OTG" come with deeper frames and channels to accommodate the earpieces of your glasses. You can also purchase prescription strength lenses for some brands of snowboard goggles if you'd prefer to leave your frames at home.
Finding the Right Lenses
The different ski goggle lenses available at Sport Chek come in a wide range of colours and tints that each provides a different degree of clarity. Most ski google lenses feature 100% UV protection but each lens is designed to filter light differently and provide optimal visibility in particular lighting or weather conditions. Consider the following features when deciding which goggle lens is right for you:
Lens Colour
Ski goggle lenses are given a Visible Light Transmission (VLT) rating which indicates the amount of light permitted through the lens on a scale from 0%-100%. If you're skiing in conditions with low visibility like falling snow or fog, stick to coloured lenses with a high VLT rating. Darker coloured lenses with a low VLT rating will perform better in bright or sunny conditions. If you're an avid skier or find yourself in variable conditions often, it can be beneficial to find goggles that allow you to swap out the lenses so you can match the lenses to the conditions.
Mirrored Lenses
Mirrored ski goggle lenses feature a coating on the outside of the lens that cuts down the amount of light permitted in; this results in less glare and better visibility in bright conditions when compared to a non-mirrored lens.
Anti-Fog Technology
Featuring a chemical coating on the inside of the lens, ski goggles with anti-fog technology help increase visibility and reduce the amount of goggle fogging while skiing. The chemical coatings vary in durability and can deteriorate with poor google care. While this anti-fog technology can help decrease fogging greatly, it will not be entirely eliminated. Read below for tips on keeping your goggles free of fog.
TIPS TO REDUCE FOGGING
Condensation on your ski goggle lenses, or goggle fog, is caused by air trapped in your goggles that's warmed and moistened by your body heat. Follow these best practices and tips to reduce goggle fog:
Find a Proper Fit – Properly fitting goggles with a snug, consistent face seal help limit the amount of outside moisture that enters the ski goggles.
Find Compatible Vents - Purchasing a helmet and goggles that have compatible vent systems will help increase airflow in and out of your goggles, keeping the air inside cool and dry. This helps prevent the buildup of condensation inside the goggles.
Keep Them On – Try to avoid taking your goggles on and off again often. This allows your goggles and helmet to vent warm air and condensation away from your face, as well as limiting the opportunity for snow and moisture to get in.
Create Space – Don't block the vents on your goggles with a toque, scarf or additional clothing. Wearing your neck gaiter up to or over your goggles can funnel the warm air from your breath up around the outside of the goggles, causing them to fog.
Avoid Wiping – Don't wipe the fog out of the inside of your lenses using your gloved hand if they do fog up – this can damage the inside lens coating. If you've got goggle fog, take off the goggles, shake them out and use a microfiber cloth to wipe them dry.
This article and post is designed for educational purposes only. When participating in any exercise or exercise program, there is a possibility of physical injury. Please consult with a doctor prior to engaging in any exercise or exercise program. The use of any information provided is solely at your own risk. Product selection is an individual choice and the consumer is responsible for determining whether or not any product is suitable based on the consumer's circumstances.