Know Your Terms
Whether you're looking for men's, women's or kids' skis, there are a few terms you should know before you get started choosing skis from Sport Chek:
"Rocker" – Refers to an upward shaping of the ski before the tip and/or tail of the ski, making it easier to initiate and exit a turn, and helping the ski to float more efficiently in powder.
"Camber" - Refers to a downward arc built into the core of the ski. Camber is generally present underfoot in most rockered skis, and the running length of the camber varies by model and usage. Camber flattens when force is applied to the ski, acting like a responsive spring as the skier moves from turn to turn.
"Package Skis" - Also referred to as system skis, are skis that include the bindings. The bindings have been carefully selected to ensure proper fit and function. Our selection of system skis come paired so you can take the guesswork out of choosing the right combination of ski and binding.
"Flat Skis" - Are skis that don't come with a binding. Flat skis give you the flexibility of choosing your own binding for greater freedom.
Know Where You Ride and Your Skill Level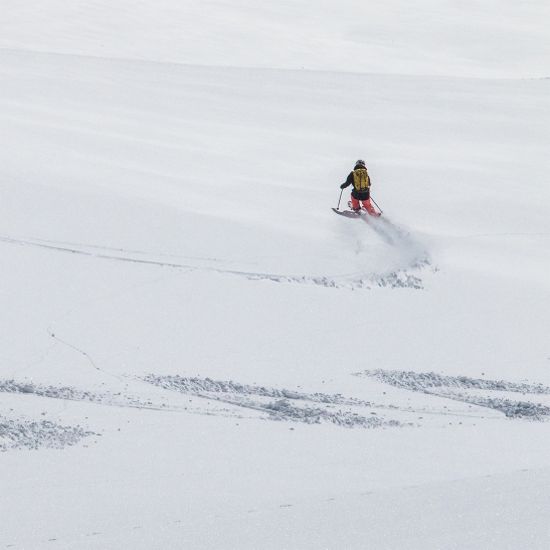 You're just starting out or you ski a couple times a year, still gaining experience with different snow conditions. You enjoy easier runs and fun is your primary concern. Skis at this level are expected to offer excellent value and mid-range performance in long and short turns. Criteria like how easy it is to initiate a turn as well as general stability define this category.
You ski several times a year and can handle most of the mountain although you're most comfortable in ideal snow conditions. Your preference is all-terrain skiing at moderate speeds and medium turns. Skis at this level are assessed for comfort on both groomed and un-groomed runs, with special attention to details like how balanced they feel and what their performance is in less-than-perfect conditions.
You ski wherever you want on the mountain, always in control and confident, definitely faster than most. Performance is your primary concern and you enjoy all-terrain cruising. Assessed for stability in long and short runs, these skis were aggressively tested and expected to perform well in a variety of scenarios. Overall versatility in all conditions defines this category of skis.
Level D: Big Mountain/No Limits
As the name suggests, skiers riding in this freeride category really enjoy testing the limits. Big Mountain skis are found all over the mountain and their maneuverability and stability make them a popular choice for off-piste terrain. They're just as well suited to high-speed riding, taking air and landing switch. If you're riding Big Mountain, you're ready to handle anything the mountain throws at you – with skill.
Level E: On-Piste/Fast & Confident
You're all over the mountain, skiing faster than most and with confidence. Improved performance is your main goal. This category of ski is tested to find the best balance between raw edge hold and user friendliness. Testers devoted special attention to agility, power and edge grip. You'll find on-piste skis offer plenty of versatility over a variety of terrain, equipped to handle groomers and corduroy in the morning but can handle chop all day.
Know Your Weight
The right length of ski for you is not solely determined by your body weight. The best length and width of ski for you should be chosen based on your skill level, choice of terrain, and your body weight.
LENGTH
Longer skis tend to provide more stability when travelling at high speeds. They generally perform well in deeper snow conditions and can offer more responsiveness – more dig and pull-in – going in and out of turns. Heavier skiers may be better suited to longer skis as they'll be able to exert enough force to turn the longer skis and their weight will be more evenly distributed across the additional surface area.
Shorter skis allow easier turn initiation, have a lighter swing weight and require less work to keep on-edge through a turn. Often a good choice for young children or skiers with a smaller body frame, shorter skis are considered easier to turn and maneuver on the mountain.
WIDTH
Skiing in deep snow or powder? A wider ski (90-110 millimetres) provides more 'float' and keeps you from sinking in soft snow conditions. A wider ski is also a good option for skiers with a large frame as it distributes the skier's weight over a larger surface area. If you typically ski compact or groomed snow conditions, choosing a narrower ski (72-80 millimetres) can help as it makes it easier to turn on a hard snow surface.
Know Your Boots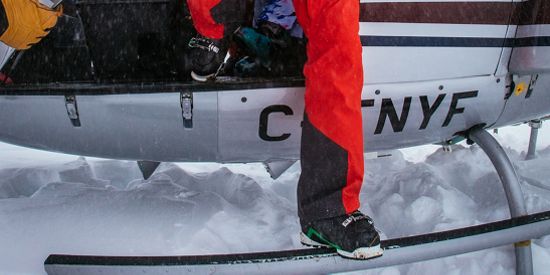 Having properly fitted men's, women's or kids' ski boots will help you make the most out of your new skis, maximizing both your performance and enjoyment. Pairing these with high-quality bindings and equipping yourself with a certified ski helmet will help keep you safe and secure on the mountain.
CHECK OUT OUR SKI BOOT FITTING ARTICLE
This article and post is designed for educational purposes only. When participating in any exercise or exercise program, there is a possibility of physical injury. Please consult with a doctor prior to engaging in any exercise or exercise program. The use of any information provided is solely at your own risk. Product selection is an individual choice and the consumer is responsible for determining whether or not any product is suitable based on the consumer's circumstances.