TYPES OF SKI JACKETS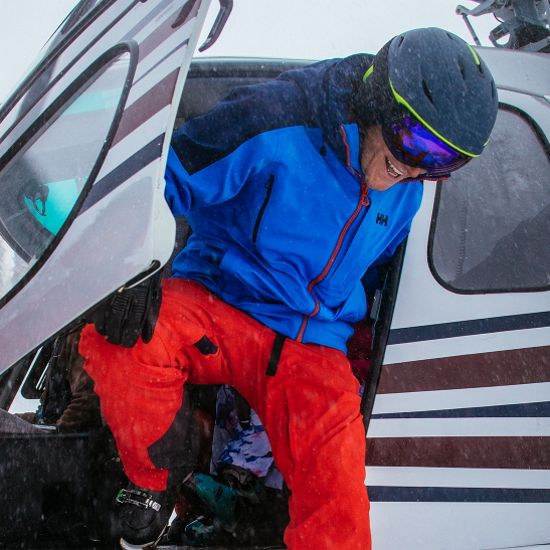 There are a number of factors to consider when choosing the best men's, women's or kids ski jacket. Don't dive head first into a ski jacket purchase until you've weighed all the options.
INSULATED SKI JACKETS
If you plan to ski in colder conditions or you find you get cold easily, an insulated ski jacket will help shield you from the elements and provide an additional layer of warmth. Insulated ski jackets fall into one of two categories: down insulation or synthetic insulation.
Down Insulation
Down is an excellent insulator that is light, breathable and extremely durable. This type of jacket works to heat you up quickly and keep you warm, but the down loses its insulating ability when it gets wet. Therefore, down jackets are a good choice for cool, dry weather conditions or for casual skiers and snowboarders. If you plan to ride in wet conditions, or if you tend to sweat a lot, down-insulated ski jackets are best used for warming up after a day on the slopes.
Synthetic Insulation
Synthetic insulation is made up of ultrafine Polyester fibres and is more resistant to moisture than down. It does a better job of keeping you warm even when wet. This type of jacket is best for wet and cold conditions, or for people who tend to sweat a lot, helping to keep you warm and dry regardless of the weather conditions.
NON-INSULATED JACKETS
Sometimes called 'shells,' non-insulated jackets are a good alternative if you'll be skiing in mild conditions or if you tend to overheat quickly. Non-insulated shells will protect you from wind and moisture without the extra layer of insulation.
Waterproofing on Ski Jackets
Likely made from a durable fabric such as nylon, the outer layer of your ski jacket is your first line of defense against the elements. To make this fabric either waterproof or water resistant, it's treated with a coating or laminate that utilizes Durable Water Repellent (DWR) technology. Jackets are given a waterproof rating ranging from 0mm-20,000mm+; the higher the number, the more waterproof the fabric. It's easier to choose the best ski jacket for the conditions you'd like to ski in when you understand the difference between waterproof and water-resistant jackets.
Waterproof Ski Jackets
Waterproof means no water in or out and the outer surface of the jacket is completely impermeable to water. Typically made from a fully coated fabric with a low breathability rating, these jackets are intended for minimal levels of activity in heavy rain or wet snow conditions. The zippers, seams and flaps are also sealed to ensure rain and snow can't get in.
Water Resistant Ski Jackets
Water-resistant jackets have a lower waterproof rating, delaying rather than preventing the penetration of water through the fabric. These ski jackets usually have a high breathability rating, are designed for strenuous levels of activity and light to moderate rain and snow conditions.
Breathability – The amount of water vapour able to pass from the inside to the outside of the fabric within a given time period. The higher the rating, the more breathable the fabric.
Coating – A polyurethane layer on the inside of the fabric of the jacket.
DWR Technology – A chemical finish that adds microscopic fibres to the jacket's material, causing water molecules to bead and roll off the fabric.
Laminate – A membrane layered in between the outer fabric and the inner lining which allows moisture and water vapour to escape while keeping rain and water out.
Waterproof Rating – A measure of the amount of water a fabric can withstand before it begins to leak. The larger the number, the more waterproof the fabric.
FINDING THE RIGHT FIT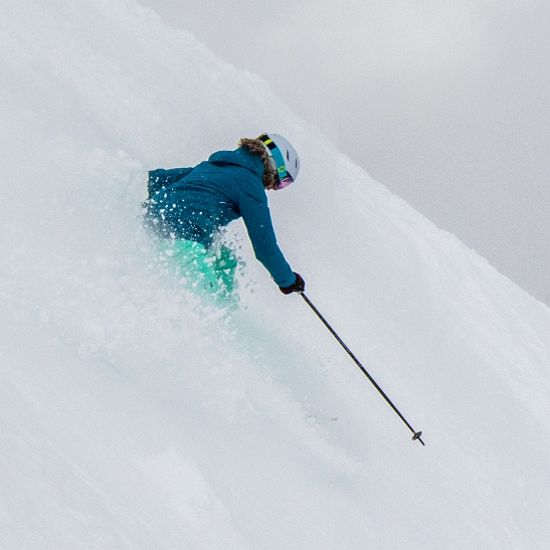 The ski jacket you choose will provide an outer layer of protection and much-needed insulation from the cold. If your jacket is too large, the additional air space between layers will leave you prone to chills. If your jacket is too small, it will inhibit natural mobility as you ski.
1. Consider Your Other Layers
Keep in mind the layers you'll be wearing under your jacket (including your ski pants). Trying your jacket on with the other layers will give you a better idea of how everything fits together and whether you'll be comfortable and protected on the mountain and will have a full range of motion. Remember that a jacket that's too small will compress your other layers, limiting their insulating ability.
2. Test Your Mobility
Raise both arms above your head, ensuring there's no gap between the bottom of the jacket and top of your pants that could let in snow or cold air. Now reach forward with both arms and swing your arms backwards. A properly fitting jacket will fit comfortably across your shoulders, allowing free mobility without tightness or uncomfortable tugging.
3. Try on the Hood
Put up the hood and adjust it to how you would typically wear it while skiing. Turn your head from side to side. Does the hood move with your head, or does it stay put so you are looking at the inside? If you plan to wear a helmet when you ski or snowboard, make sure the hood is large enough to accommodate your helmet.
If your jacket fits comfortably over your additional layers, allows free movement of your arms and body, and can accommodate your choice of helmet, you have found a properly fitting jacket that will keep you warm and comfortable on the slopes!
This article and post is designed for educational purposes only. When participating in any exercise or exercise program, there is a possibility of physical injury. Please consult with a doctor prior to engaging in any exercise or exercise program. The use of any information provided is solely at your own risk. Product selection is an individual choice and the consumer is responsible for determining whether or not any product is suitable based on the consumer's circumstances.