FINDING THE RIGHT FIT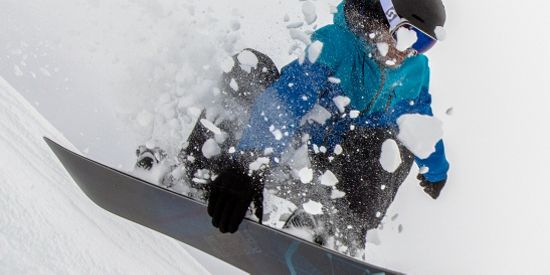 Be sure to bring your snowboard helmet with you when selecting men's, women's and kids' snowboard goggles from Sport Chek to ensure they fit together properly. Keep these points in mind when trying on goggles:
Face Seal – The goggle frames shouldn't create any pressure points or noticeable gaps and should fit your face comfortably. The seal should be consistent and snug across your forehead, the bridge of your nose, and outer eye socket.
Helmet Compatibility – With the strap positioned on the outside of your helmet, your goggles should maintain a snug and consistent fit on your face. Your helmet and the top of the goggles should fit together comfortably. Check to see if there's any "goggle gap" between your helmet and the top of your goggles, which can let in cold air and snow.
Air Flow – Check to see if the venting system on your goggles is compatible with the helmet you choose, and that the front of your helmet doesn't block the vents on the top of the goggles. This helps ensure airflow through both your goggles and helmet, which in turn reduces the risk of goggle fogging.
Do you wear glasses?
Goggles are not typically designed to accommodate glasses because the frames of your glasses may rub against the goggle's lenses and the earpieces can disrupt the seal of the googles on your face. When choosing a helmet, look for "glasses compatible" or "OTG" goggles intended to be used with glasses. Goggles labelled "OTG" come with deeper frames and channels to accommodate the earpieces of your glasses. You can also purchase prescription strength lenses for some brands of snowboard goggles if you'd prefer to leave your frames at home.
Choosing Your Lenses
You can choose from a wide range of snowboard goggle colours and tints at Sport Chek, each one providing different degrees of optical clarity. While most goggle lenses feature 100% UV protection, every lens is designed to filter light differently and provide optimal visibility in particular lighting or weather conditions. Most of the top snowboard goggle brands like Oakley, Smith and Spy offer a range of tints and colours for you to choose from. Consider the following features when choosing the best goggle lenses for you:
Lens Colour
Indicating the amount of light permitted through the lens on a scale from 0-100%, every goggle lens sold at Sport Chek is given a Visible Light Transmission (VLT) rating. When riding in snow or fog where there's low visibility, choose light coloured lenses with a high VLT rating. Dark coloured lenses with a low VLT rating tend to work better in bright or sunny conditions. If you find yourself in a range of conditions on a regular basis, invest in goggles that allow you to easily swap out the lenses to adjust for the current conditions on the mountain.
Mirrored Lenses
Mirrored snowboard goggle lenses feature a coating on the outside that reduces the amount of light allowed through the lens. This produces far less glare and improves visibility in bright conditions when compared to non-mirrored lenses.
Anti-Fog Technology
Some snowboard goggle lenses come with a chemical coating on the inside of the lens that helps reduce fogging. Varying in durability, these coatings can deteriorate if you don't take good care of your goggles. Anti-fog compounds go a long way in decreasing goggle fogging but it will not be eliminated entirely. Follow the tips below to help keep your goggles fog-free:
ANIT-FOG TECHNOLOGY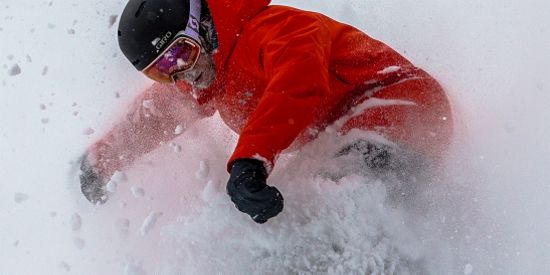 When air gets trapped between your goggles and your face, your body heat warms this air until it turns into condensation, or fog on the lenses. Here are a few helpful tips and practices for reducing goggle fog:
Find a Proper Fit – Goggles that fit properly, providing a snug, consistent face seal will limit the amount of moisture that enters the space between your face and your goggles (think rain, snow, and sweat).
Opt for Compatible Vents – Help increase air flow in and out of your goggles by purchasing a helmet and goggles that have compatible vent systems. This helps keep the air inside cool and dry and helps prevent any condensation build up.
Keep Them On – Avoid taking your goggles on and off once you've put them on. Keeping them on is an easy way to limit the opportunities for snow and moisture to get in as well as allowing your helmet and goggles to work together to efficiently vent warm air and condensation away from your face.
Create Space – Avoid covering or blocking the vents on your goggles with a toque, scarf, or additional clothing. If you're wearing a neck gaiter, try to keep it lower than your goggles and don't allow overlap, otherwise the warm air from your breath could be redirected up to your goggles, causing fogging.
Avoid Wiping – Resist the temptation to wipe the moisture out of your goggles with your gloved hand if they do fog up, as this can damage the inside coating of the lens. Take off the goggles, shake them out, and use a microfibre cloth to carefully wipe the lenses dry before putting them back on.
This article and post is designed for educational purposes only. When participating in any exercise or exercise program, there is a possibility of physical injury. Please consult with a doctor prior to engaging in any exercise or exercise program. The use of any information provided is solely at your own risk. Product selection is an individual choice and the consumer is responsible for determining whether or not any product is suitable based on the consumer's circumstances.