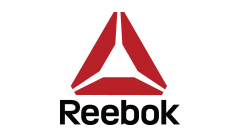 Reebok Shoes & Clothing
At Reebok we see it as our purpose to inspire people to be their absolute best. We believe that fitness is a way of life. Tough Fitness is our take on fitness for all that are willing to conquer the unknown obstacles in life.
Move with Power
Here's to women making change. Reebok is celebrating women who are transforming themselves and the world around them. Gal Gadot is relentlessly challenging female stereotypes and empowering young women everywhere.
Froning 1
The most proven competitor to take part in the Reebok CrossFit ® Games, Rich Froning, is debuting his own footwear with long time partner Reebok - The Reebok Froning 1.
Reebok PureMove Sports Bra
Learn about the technology behind the PureMove bra. Selection may vary by location.
Shop PureMove Sports Bra
We envision a future where humans return to their roots. A future where we recognize that each of us is a living, breathing, walking, talking, running, climbing, jumping, laughing, caring miracle—a miracle that happens only once.
Through tough fitness, we will push each other to honor the body we've been given, because we have only one body to honor. We will endure sweat, tears and even a bit of blood. We will flip tires, sprint hills, and do push-ups until we can't do them any longer. Why do we do this? We certainly aren't flipping tires to be better tire flippers. We're doing it to be better, period. Better leaders; better parents; better stronger, more determined humans—capable of anything. We do it to honor our bodies and sharpen our minds—to be more human.
+ Read More