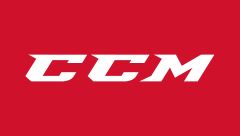 Item #: 332005354
CCM has completely redesigned its composite goalie line. The new Premier line was developed using the best out of player sticks while keeping the needs of goalies at top of mind. From the shoulder shapes to the structure and composition of the stick, everything has been optimized.
Features
Paddle: Strategically placed exofibre weave with matte finish. Reduces vibrations to provide a better feel of the puck.
Handle: New Raised Grip. Designed to offer great control, especially when playing the puck
Blade: Very stiff blade. For great accuracy and control of deflections.
Construction: Very light composite structure.