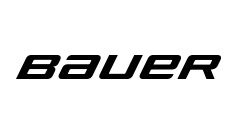 Item #: 332329951
BRING THE BOOM
Ignite your game with Maximum Power Kick (MPK) technology and the Bauer Supreme 1S. The Bauer Supreme 1S Youth Hockey Stick caters to younger players with a shorter shaft length and softer flex.
Features
EXTENDED TRANSFER ZONE: An Extended Transfer Zone provides the same hard slap shot and one-timer you would expect from SUPREME, but now brings that power to snap shots too, loading the stick more easily based on hand position.
MAXIMUM POWER: Designed to give you your hardest shot possible, Maximum Power Kick (MPK) technology takes your energy and transfers it from handle to blade — to the back of the net.
LIGHT AND DEADLY: TeXtreme® is the latest in lightweight carbon technology that improves balance for enhanced puck handling.
ADVANCED BLADE TECHNOLOGY: RenewCore is Bauer's most advanced blade technology. This blade has a pressurized gel core that remains in a liquid state forever, improving power and durability.
DURABLE TO THE CORE: Self-healing from the inside out. As damage occurs inside the blade, RenewCore's pressurized gel finds and fills cracks to give you a more durable, longer-lasting blade, shot after shot.
ULTIMATE PERFORMANCE: RenewCore's gel helps transfer energy within the blade core. It absorbs energy when the puck hits the blade for better feel before transferring that energy back to the puck while shooting.
Specifications
SUPREME High Kick Point Profile
Gloss finish (non-grip)
POWER SENSE 2 blade core
PATTERNS
P92 - Matthews
SIZE
Youth [46"]