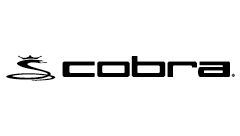 Item #: 332525042
The KING F8 Fairway features faster and more forgiving Baffler® Rails that deliver maximum playability from all lies. Designed for 5 to 25 handicap golfers with moderate to higher swing speeds seeking maximum distance and forgiveness in a fairway wood.
Features
Faster, more forgiving rails. A re-engineered Baffler® Rail design gives you more confidence to conquer every lie with effortless speed and stability.
A progressive Baffler® rail design features shallower or steeper rails depending on loft and angle of attack for improved versatility and consistent contact from any lie.
The 3W-4W features shallower rails to accommodate for sweeping attack angles, allowing the clubhead to glide through the turf with ease.
Tighter-spaced rails are more centered around the club's center of gravity to help to reduce twisting at impact for improved stability and consistency.
Taller rail heights increase the leading edge bounce to prevent digging in order to retain more clubhead speed and allow the club to glide easily through the turf.
Thin, high-strength stainless steel is forged to maximize face deflection for increased ball speeds and distance across the entire face.
Cobra's patented E9 Technology™ is designed in an elliptical pattern to create a SWEET ZONE™ that allows more hot spots farther away from the center of the face.
Innovative crown and sole aero trips optimize aerodynamic performance for faster clubhead speeds and increased distance.
Lightweight polymer aero trips on the crown and titanium trips on the sole optimize aerodynamic performance while maintaining a low CG for faster clubhead speeds.
Distance is dependant on club speed. The addition of aero trips and a more streamlined shape is important to reduce drag in areas of the swing where speed is lost. The aero trips are strategically positioned relative to the orientation of the airflow, speed, and drag through the swing to increase clubhead speed for maximum distance.
A fixed weight positioned low and back results in a high, towering ball flight that is extremely forgiving.
A shallower face profile lowers the CG for improved launch and increased ball speed with reduced spin.
A lightweight carbon fiber crown saves discretionary weight to move the CG lower and deeper, promoting higher trajectories and increased forgiveness.
8 easily adjustable loft settings help you fine tune trajectory, launch and spin to maximize distance, while Smart Rail Technology keeps the face square regardless of the loft setting.
True aftermarket "Tour" shafts feature premium materials and stiffer, low torque profiles that reduce spin for improved performance in distance and dispersion.
See in store for special orders.
The TENSEI CK Blue provides enhanced stability and feel in an ultra-lightweight shaft. Ideal for medium swing speeds seeking higher launching trajectories with reduced spin for improved dispersion
The Aldila NV 2KXV Blue is a midweight shaft ideal for those with mid to high swing speeds seeking a combination of medium trajectory and medium spin.
COBRA CONNECT™, Powered By Arccos™, allows golfers to track their driving distance and accuracy using detailed stats and analysis to improve their game.
COBRA CONNECT™ works in conjunction with the Arccos 360™ mobile app - the award-winning connected golf system that helps players of all skill levels make smarter, data-driven decisions.
COBRA CONNECT™ provides advanced GPS distances on over 40,000 courses worldwide, so users can pinpoint exact distances (in yards or meters) to any point on the course.
Know true averages for every club in your bag so you hit more greens and make more birdies.
Know your strengths and weaknesses of every club so you can practice more efficiently and shoot lower scores.
Specifications
Loft Adjustability: Yes, MyFly8 - 13° / 13.5° / 13.5°D / 14.5° / 14.5°D / 15.5° / 15.5°D / 16°
Fade/Draw Adjustability: Yes, MyFly8
Sole Technology: Baffler rail technology
Head Size: Oversized
Head Volume: 166cc
Face Height: Shallow
Crown Material: Lightweight Carbon Fiber
Offset: No
Shaft: Aldila NV 2KXV Green
Grip: Lamkin Crossline (Plus) Connect
RH/LH: RH & LH
Flexes: Regular, Stiff & Lite Flex
Lofts: Variable - MyFly8 - 13° / 13.5° / 13.5°D / 14.5° / 14.5°D / 15.5° / 15.5°D / 16°
Length: 43.50"
Swing Weight: D1
Tool not included.