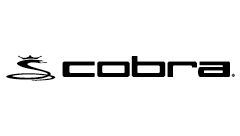 Item #: 332525123
COBRA's first ever connected set of irons will improve your game. Carbon fiber tuned PWRshell™ Technology delivers superior feel and long, towering shots. COBRA Connect™ Technology proves the performance. Designed for 5 to 25 handicap golfers with moderate to higher swing speeds seeking a more forgiving distance iron with enhanced feel.
This 7-piece set features 5, 6, 7, 8, 9, PW, GW
Features
Golf's most advanced technology, COBRA CONNECT™, Powered By Arccos™ features electronically enabled grips in each iron. Detailed stats are recorded automatically, allowing golfers to access an in-depth analysis of their game using the COBRA CONNECT™/Arccos 360™ app on their Smartphone.
Leverage the power of data to take your game to the next level. Arccos 360™ users improved their handicaps 36.4 times faster than the average golfer.
COBRA CONNECT™ analyzes every aspect of your game, while providing you with advanced GPS distances to any point on the course so you can make smarter shot decisions.
Know true distance averages for every club in your bag as well as your strengths and weaknesses so you can hit more greens and lower your scores.
Lightweight COBRA CONNECT™ sensors are seamlessly embedded in the end of each grip to ensure comfort during the swing, without affecting weighting or performance.
COBRA CONNECT™ provides advanced GPS distances on over 40,000 courses worldwide, so users can pinpoint exact distances (in yards or meters) to any point on the course.
Know true averages for every club in your bag so you hit more greens and make more birdies.
Know your strengths and weaknesses for every club so you can practice more efficiently and shoot lower scores.
Featuring COBRA's patented E9 TechnologyTM, an all-new forged PWRSHELLTM face construction delivers driver-like speed and distance.
A multi-material carbon fiber construction damps vibrations at impact for exceptional sound and feel through the set.
A lower profile clubhead design lowers CG for higher launch and more clubhead speed.
Advanced construction technologies combine to create the ultimate progressive irons that deliver tailored performance through the set.
4 Iron to 7 Iron
A hollow construction in the long irons lowers CG and delivers a highly responsive face for increased launch and speed. A carbon fiber medallion damps vibrations for improved sound and feel.
8 Iron to PW
A cavity-back design in the mid to scoring irons delivers improved accuracy on approach shots. A two-piece carbon fiber insert and medallion work to deliver softer, yet more solid feel.
GW to LW
A specialty wedge design with a carbon fiber insert in the GW, SW and LW damps vibrations for improved feel and precision around the greens.
Variable hosel lengths strategically position the CG for optimum launch, speed and forgiveness through the set. Lower profile long irons with shorter hosels lower the CG for improved launch and forgiveness. Progressively taller hosels in the mid to scoring irons raise CG for improved control and accuracy on approach shots.
4 Iron to 7 Iron = Low CG
8 Iron to PW = Mid CG
GW to LW = High CG
CNC milling delivers more precise groove structures resulting in optimum spin and trajectory characteristics for the long irons, mid to scoring irons and wedges.
4 Iron to 7 Iron = Milled V-Grooves reduce spin for maximum distance and flight time.
8 Iron to PW = Milled U-Grooves optimize spin for improved control and more accurate approach shots
GW to LW = Tighter, wedge-spaced grooves deliver increased spin for more precise shots around the green.
Specifications
Shaft: True Temper XP 90
Swing Weight: D1-D3
Grip: Cobra Lamkin REL 360 (Tour Taper) Connect - Nardo
Offset: Progressive, 5.4mm in 4 iron to 1.0 mm in Wedges
RH/LH: RH & LH
Flexes: Regular & Stiff
7 Iron Loft: 29.5°
7 Iron Length: 37.50"
7 Iron Lie: 62.5°