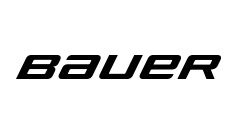 Item #: 332526817
Get a better feel for the ice and make tighter turns with the Bauer Supreme 2S Senior Hockey Skates. The LOCK-FIT system grips your feet for a close and comfortable fit while the TUUK LIGHTSPEED EDGE holder is taller so you can get a better angle of attack on turns.
Features
Curv Composite: Ultra-lightweight composite material enhances lateral support and thermo-formability for optimal performance.
LOCK-FIT Liner and Footbed: Grips your feet better, so you can grip the ice better.
TUUK LIGHTSPEED EDGE: Easily replace your skate blades in seconds. Increase of 3mm in overall height gives you a better angle of attack for tighter turns.
Specifications
Quarter Package: 3-D lasted Curv composite
Lining Material: LOCK-FIT liner
Ankle Padding: Lightweight memory foam ankle pads
Tongue: Reflex tongue, 3-piece 48oz felt tongue with injected metatarsal guard
Tendon Guard: Flexible
Footbed: LOCK-FIT
Thermoformable: Anaform upper
Outsole: Lightweight composite
Blade Holder: TUUK LIGHTSPEED EDGE
Runner: TUUK LS3 stainless steel (size 4–12) TUUK LS2 stainless steel (size 1–3.5)