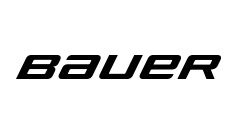 Item #: 332526906
The Bauer Supreme S29 Senior Hockey Skates feature several key upgrades that include fiber composite quarter and outsole. The FORM FIT+ Footbed with stabilizer grip and ventilation keeps your feet locked in as you hit your edges.
Features
TUUK LIGHTSPEED EDGE: Easily replace your skate blades in seconds. Increase of 3mm in overall height gives you a better angle of attack for tighter turns.
2-piece 48oz Felt Tongue with HD Metatarsal Guard: Protects the top of your foot against various hockey impacts.
FORM FIT+: Keeps your feet locked in, secure and comfortable.
Specifications
Quarter Package: 3-D fiber composite+
Lining Material: Hydrophobic microfiber
Ankle Padding: Lightweight memory foam ankle pads
Tongue: 2-piece 48oz felt tongue with high-density reinforced metatarsal guard
Footbed: FORM-FIT+ with stabilizer grip and ventilation
Thermoformable: Thermoformable upper
Outsole: Fiber composite
Blade Holder: TUUK LIGHTSPEED EDGE
Runner: TUUK LS1 stainless steel