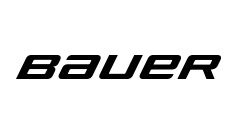 Item #: 332527707
Custom fit is important as your child gets older so get the pad that uses a Custom Rotation Strapping System as well as Adjustable Knee Lock so they feel secure in the crease. The Bauer Supreme S27 Junior Goalie Pads also feature upgraded synthetic leather compared to previous models.
Features
Custom Rotation System: A strap system that gives a custom fit and allows for optimal pad rotation when moving in the net.
New flat construction knee landing with Adjustable Knee Lock (AKL): Adjust up or down for a smarter fit.
Upgraded synthetic leather material.
Specifications
Core/Insert: Stiff profile
Break: Single internal break below the knee
Material: Synthetic leather
Strapping: Custom Rotation System (CRS)
Leg Channel: Nylon leg channel
Boot Flex: Stiff
Knee Landing: New flat construction with AKL
Toe: Off-set