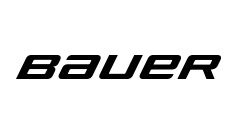 Item #: 332528204
Every goalie knows that energy saved equals saves made. The Bauer Supreme S29 Senior Goalie Skates utilize ultra-lightweight Curv composite for enhanced lateral support and maximum speed from post to post.
Features
Curv Composite: Ultra-lightweight composite material enhances lateral support and thermo-formability for optimal performance.
HYDRA MAX 2 Liner: Keeps your feet dry and comfortable.
VERTEXX EDGE Holder: Goalie specific holder that eliminates the cowling and adds 5mm in height, for an increased attack angle so you can get to every puck.
Specifications
Fit: Asymmetrical shoulder
Quarter Package: Curv composite
Lining Material: HYDRA MAX 2
Tongue: Asymmetrical pro felt tongue
Ankle: Heel lock ankle pad
Outsole: Lightweight TPU
Blade Holder: VERTEXX EDGE
Runner: LS 2G
Loop: Larger Lundqvist loop