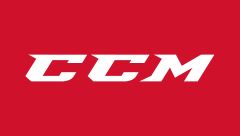 Item #: 332547174
Get a custom fit and pro level protection with the CCM Jetspeed FT1 Junior Shin Guards. The Lightweight Shell Design and Hinge System will keep you light and agile on your skates while keeping you protected against hard shots and battles in front of the net.
Features
Construction - Lightweight Shell Design and Hinge System: Hinge system for improved mobility and protection.
Calf Guard - Molded Rocketframe Composite Shell: Light weight pro level protection.
Knee/Shin Caps - Anatomical Shin Caps with Vented Knee Cap: Lightweight protection.
Thigh - Molded Zotefoam®: Pro level protection.
Attachment - Upper Lock Strap with Stretchable Comfort Cushion + New Adjustable Length Calf Strap: Custom fit and locked in comfort.
Liner - New Molded Zotefoam® / Vented Removable Dryfoam Liner with Exposed Foam: Lightweight custom fit, easy maintenance and pro level protection.