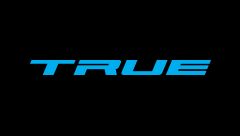 Item #: 332559634
Hair Trigger - The Ultimate Goalie Stick
Get an edge on the competition with The TRUE A6.0 HT Senior Goalie Stick featuring an ultra-lightweight composite design with maximum dampening properties for superior rebound control. Combine this with the redesigned flex zone - you receive the playmaking ability of a high end foam core stick with all the performance and durability benefits of a carbon fiber design.
Features
Carbon Fiber Durability, Foam Core Playability: The redesigned flex zone paddle is optimized for enhanced power and balance, for faster loading and quicker passes. It features the playmaking ability of a foam core stick, and the durability benefits of a carbon fiber design.
Enhanced Paddle Durability: BRT+ technology has been extended into the paddle, along the edge of the blade and into the heel. This allows for a thinner and lighter design, improving balance while maintaining durability.
Optimal Rebound Control: The viscoelastic layer in the blade and paddle provide more absorption on impact, providing rebound control benefits that mimic a Pro Foam Core model.
Thinner Tapered Paddle for Improved Weight & Balance: Ultra-thin paddle design transitions to an almost flat surface to achieve similar flex properties to a player stick. By removing material from the lower paddle area, the balance point shifts towards the handle, offering greater control and maximizing puck handling capabilities.