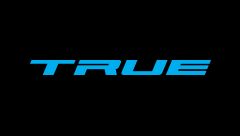 Item #: 332561801
The Power Shooter's Stick
TRUE Hockey continues to explore the science behind creating the feeling of a lighter stick, while maximizing its durability and performance. With an improved Swing Weight, the TRUE A6.0 SBP Gen II Intermediate Hockey Stick is stronger through greater mass, more balanced through optimal weight distribution, and more powerful through a faster, more responsive design. It's an engineering marvel. That's TRUE.
Features
Strength: BRT+ blade technology produces a lighter, more durable blade so weight can be redistributed into the shaft for extreme impact strength and increased durability.
Balance: Industry-leading one-piece Axenic construction allows for optimized distribution of weight throughout the stick for unmatched balance.
Power: Optimized for ease in energy loading, the new A6.0 produces explosive power from any shooting position.
Swing Weight: Low Swing Weight for enhanced mobility and harder, faster shots
SmartFlex Technology: The stick's stiffness profile is optimized for all shot types. The result is a more powerful shot from any shooting position. Shaft becomes progressively stiffer towards the blade.
Mid Kick-Point: Flex point just below the bottom hand with stiffer bottom third of shaft for easier loading and powerful slapshots.
SmartPly Technology: Up to 25 layers of optimized, unidirectional carbon fiber angles in a single shaft for the perfect combination of weight, balance, and impact strength.
Specifications
Weight: Intermediate 395g, 405g
Length: 56", 58"