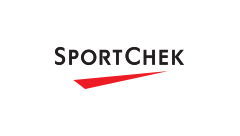 Find What Moves You
What do we believe?
At Sport Chek, we believe that sport is whatever moves you. It shouldn't be bound by rulebooks or live within set lines and lanes. It's not limited to what happens on the court, rink, field or track. Because it's not just about what you're doing, but how you're feeling. Alive. Exhilarated. Renewed. Sport is more than its traditional definitions. It has the power to shape your style, your relationships, your mind, and ultimately, it's part of who you are.
What's our purpose?
Sport Chek is Canada's health and wellness destination for looking well, feeling well, and performing well. Our role is to help motivate Canadians to get moving and help them achieve their wellness goals. As Canada's leading health and wellness destination, Sport Chek understands better than anyone the role sports and activity play in the lives of Canadians. We want to inspire our customers to live an active lifestyle by making sports and activity more fun, approachable and inclusive.
What is the brand tone?
Empowering
We are the lifestyle coach you never knew you needed. Encouraging but never patronizing We acknowledge that finding the thing that gets you moving isn't easy, but we're there to cheer you on along the way.
Approachable
We're not the intimidating super-athletic or local cool kid. We're the person you'd look to in a pinch, because we're warm, unpretentious and inviting.
Inclusive
No borders or boundaries. No insiders and outsiders. We're there for everyone, without judgement or exclusion. Whether you're trying a new activity for the first time or a seasoned pro, we treat you the same.