Triangle Rewards™
How to Collect Triangle Rewards™: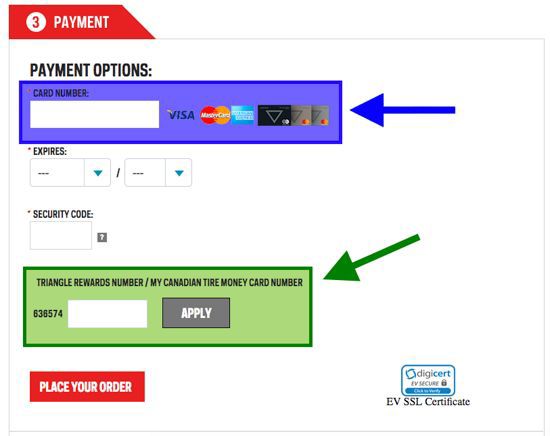 1. Proceed through to step 3 of the checkout process.
2. For Triangle™ credit card members: Input your credit card information as highlighted in BLUE.
OR
For Triangle Rewards™ members: Input the last 10 digits of your Triangle Rewards card number into the Triangle Rewards section as highlighted in GREEN and click apply.
3. Place your order.
Can Triangle Rewards™ Members redeem electronic Canadian Tire Money® on online purchases at SportChek.ca?
No. Redemption of Canadian Tire Money is currently not available through SportChek.ca.
Where to Sign Up? Want More Information for Triangle Rewards™ ?
Sign up / more information for Triangle Rewards™ Click HERE