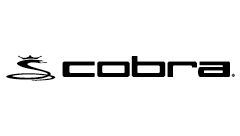 Item #: 332524874
Featuring Cobra's thinnest and hottest face, the KING® F8+ driver delivers the perfect blend of speed and workability with precision face milling, aero and adjustable weight technology. Designed for Tour to 15 handicap golfers with higher swing speeds seeking lower, more controlled trajectories with reduced spin for enhanced shot-shaping capability.
Features
Golf's first CNC precision milled forged titanium driver face with E9 Technology™ is thinner, hotter, and more precise.
CNC milling yields more precise face thickness control compared to hand-polishing, allowing COBRA engineers to design a thinner and faster-conforming face.
Tighter face thickness tolerances allow the face to be milled as thin as possible to deliver increased deflection for faster ball speeds. This yields a face that is 10% lighter.
A multi-directional CNC pattern delivers a thinner face, while the circular milling pattern in the center provides an aesthetically pleasing visual of the Sweet Zone™
This driver comes with a wrench
Compared to hand-polished drivers, CNC machining yields more precise thicknesses resulting in a thinner and hotter face that increases ball speed and distance.
A lightweight 8-1-1 Titanium body and forged face saves discretionary weight to move the CG lower for improved launch and speed. CNC milling delivers a thinner and more precise E9™ variable thickness face structure for increased distance on off-centre hits.
Tested against a traditional hand-polished driver face, the CNC milled face on the KING® F8 driver produced increased ball speeds ranging from 1.2 to 1.6 mph across the face.
After analyzing over 25,000 unique shots in Cobra's testing, they discovered that 99% of golfers hit the face in an elliptical pattern ranging from low heel to high toe. While most golf companies design a circular sweet spot around the center of the face, COBRA's patented E9 Technology™ is designed in an elliptical pattern to create a SWEET ZONE™ that allows more hot spots farther away from the center of the face.
This driver comes with a wrench
Unlike traditional drivers designed with a constant roll radius, COBRA's innovative Dual Roll Technology™ utilizes different curvatures on the top and bottom of the face to optimize launch and spin for shots hit above or below face center.
COBRA's patented Dual Roll™ design features more curvature on the top half of the face and a flatter bottom half to optimize launch and spin for shots hit both high and low on the face.
Using CNC milling, COBRA® engineers were able to design a more precise horizontal face curvature (bulge radius) to compensate for gear effect and deliver more accuracy on shots hit on the heel and toe.
This driver comes with a wrench
360 Aero Innovative crown and sole aero trips optimize aerodynamic performance for faster clubhead speeds and increased distance.
Polymer crown trips are 10% lighter than Titanium, to help improve aerodynamic performance without raising the CG. Titanium trips are utilized on the sole for increased durability while lowering the CG for enhanced speed.
The streamlined shape of the KING® F8 driver optimizes the flow separation on the crown and sole to significantly reduce drag. Lower drag will give you more clubhead speed and ultimately more distance off the tee.
Distance is dependant on club speed. The addition of aero trips and a more streamlined shape is important to reduce drag in areas of the swing where speed is lost. The aero trips are strategically positioned relative to the orientation of the airflow, speed, and drag through the swing to increase clubhead speed for maximum distance.
This driver comes with a wrench
The KING® F8 driver features back and heel Adjustable CG settings, allowing you to tune your trajectory and spin to maximize distance.
The KING® F8+ driver features front and back CG settings, allowing you to tune your trajectory and spin to maximize distance.
The front weight setting promotes a lower, penetrating ball flight, while the back weight setting slightly increases spin for higher launch.
8 easily adjustable loft settings help you manage trajectory and fine-tune launch and spin to maximize distance. Increasing or decreasing the loft will adjust the launch by +/- .5 degrees and the spin by +/- 400 rpms, respectively
A compact clubhead shape at address delivers reduced spin and a slightly lower launching ball flight for more workability and control.
Lightweight carbon fibre provides the weight savings needed to incorporate moveable weights into the design, while also repositioning weight low and back for improved launch and forgiveness.
This driver comes with a wrench
True aftermarket "Tour" shafts feature premium materials and stiffer, low torque profiles that reduce spin for improved performance in distance and dispersion.
See in store for special orders.
The Aldila NV 2KXV Blue is a midweight shaft ideal for those with mid to high swing speeds seeking a combination of medium trajectory and medium spin. Available in Regular & Stiff Flex.
The Aldila NV 2KXV Green is a heavier weight shaft ideal for those seeking a combination of low trajectory and low spin. Featuring a higher bend profile, it delivers increased control for higher swing speeds. Available in Stiff Flex.
The HZRDUS Yellow features a stout profile that is ideal for golfers with smooth tempos who want to reduce launch and spin for increased ball speed and maximum control. Available in Stiff & X-Flex.
This driver comes with a wrench
COBRA CONNECT™, Powered By Arccos™, allows golfers to track their driving distance and accuracy using detailed stats and analysis to improve their game.
COBRA CONNECT™ works in conjunction with the Arccos 360™ mobile app - the award-winning connected golf system that helps players of all skill levels make smarter, data-driven decisions.
Using advanced GPS distances on over 40,000 courses worldwide, COBRA CONNECT records the distance of every drive, so users can track their improvements.
The new Driver Tuning feature on the COBRA CONNECT™ app leverages advanced data to recommend optimal loft and weight settings.
Learn your strengths and weaknesses by analyzing distance, dispersion, and percentage of fairways hit so you can practice more efficiently and improve faster.
This driver comes with a wrench
Specifications
Loft Adjustability: MyFly8 - 8° / 8.5° / 8.5° Draw / 9.5° / 9.5° Draw / 10.5° / 10.5° Draw / 11°*
Lie Adjustability: No
Fade/Draw Adjustability: Yes, 12g & 2g Weights
Face Technology: E9 face technology & CNC Milling
Head Size: Oversized
CC (Volume): 460cc
Launch Trajectory: Low
Crown Material: 360 Aero Polymer Crown
Offset: No
Shaft: Aldila NV 2KXV Green 60
Kickpoint: High
Grip: Cobra Lamkin Crossline (Plus) Connect
RH/LH: RH & LH
Flexes: Stiff
Lofts: MyFly8 - 9° / 9.5° / 9.5° Draw / 10.5° / 10.5° Draw / 11.5° / 11.5° Draw / 12°
Length: 45.25"