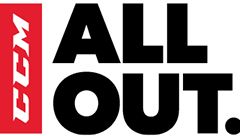 Item #: 332758075
The CCM Extreme Flex E4.5 Youth Goalie Pads are a great option for the new goalie in the family. DUALITECORE TECHNOLOGY is a lightweight pad design with a dual flex profile for quicker transition into the butterfly. The responsive QUICK MOTION strap system allows for faster drop velocity and butterfly recovery to keep goalies at the top of their game.
Features
OUTER FLEX: Single break maximizes flexibility.
INNER FLEX: Pre-curved single break core helps close the 5 hole.
BOOT FLEX: 90 degree with torsional flex provides flexibility for power pushes.
LEG CHANNEL: Lightweight set up with Quick Motion Strap System for quick response.
KNEE STRAP: 2" elastic knee provides a custom fit.
KNEE CRADLE: Deeper knee cradle helps in closing the 5 hole.
CORE: DUALITECORE TECHNOLOGY - Lightweight pad featuring dual flex profile for quicker transition into butterfly.
KNEE RAISER: NYLON/PE FOAM - Seals pad to the ice.
THIGH PROTECTOR: Protects top of knee.