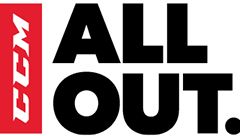 Item #: 332517238
The CCM Extreme Flex Shield E2.9 Special Edition Senior Chest Protector will keep you agile and protected in the net with key features like Removable Rib Flap Protectors and Independent Adjustable Elbow Protectors. Customize your fit and feel so you can take your game to the next level.
Features
Quick Release Velcro Adjustment
Independent Adjustable Elbow Protector
Removable Rib Flap Protectors: Extra protection in the rib area when down in Reverse-VH position.
Specifications
Sternum: Molded HD Foam
Shoulder Wings: Quick Release Velcro Adjustment
Chest: Multi-Segmented HD/LD Foams with Removable Rib Protector
Bicep/Forearm: Compression Molded HD Foam
Elbow: Independent Adjustable Elbow Protector
Shoulder Cap: Compression Molded HD Foam
Sizing Specs:
Small - Chest 18", Arm 18"
Medium - Chest 19", Arm 19"
Large - Chest 20", Arm 20"
XLarge - Chest 21", Arm 21"