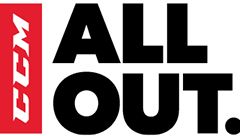 Item #: 332517412
Move freely in the crease with the CCM Premier P2.9 Intermediate Goalie Pads featuring the lightweight Quick Motion Strap System. This system provides optimal rotation - increasing butterfly drop velocity and recovery.
Features
Litecore Technology: Lighter than Premier with improved torsional strength to help the pad seal to the ice.
Quick Motion Strap System: Responsive system for faster drop velocity and butterfly recovery.
Specifications
Outer Flex: Single break for maximum coverage
Inner Flex: Pre-Curved No Break Core closes the 5 hole
Boot Flex: 60 Degree Angle helps direct pucks away from danger
Boot Channel: Shallow Soft for faster transition into butterfly
Leg Channel: Loose Fit, No Calf Strap - lightweight set up with optimized QMSS at calf for quick response
Knee Strap System: No Strap – 2" Elastic Knee for a customized fit
Knee Cradle: Recessed Foam with Removable Knee Cradle Wrap, deeper knee cradle helps to close 5 hole
Core: Litecore Technology
Knee Raiser: 3D Grip / PE Foam seals pad to the ice
INT Sizes: 29+1, 30+1, 31+1, 32+1