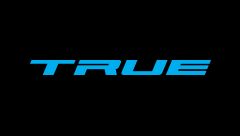 Item #: 332761686
Featuring XCORE Gen II technology, the True XC9 Gen II Senior Hockey Stick delivers game-changing performance. The sweet spot is 3X larger than its predecessor producing unmatched puck control and optimal puck trajectory for pinpoint accuracy on every shot. SmartFlex design optimizes the stick's stiffness profile for all shot types for a more powerful shot from any shooting position.
Features
XCORE Gen II: The repositioned and redesigned XCORE Gen II insert provides increased absorption, dampening the impact for greater puck control when stick handling and receiving passes. The larger insert provides players with a wider sweet spot, for unmatched puck control and shooting accuracy.
BRT+ Technology: The improved BRT+ technology extends the braided rib structure into the heel, improving durability while reducing wall thickness and producing a lighter more responsive blade.
Axenic Technology: The industry-leading Axenic process results in a seamless build, putting the player's hands in direct contact with the puck and when combined with the XCORE Gen II technology, produces unmatched control and feel.
SmartPly: A process by which fiber angles, and the order of those angles, are optimized in up to 25 layers of unidirectional carbon fiber in a single shaft. The SmartPly process creates the perfect marriage between weight, balance, and unmatched impact strength.
SmartFlex: A design process by which a stick's stiffness profile is optimized for all shot types. The result is a more powerful shot from any shooting position.
Specifications
Length: 60"
Weight: 425g
Age Group: Adult
Finish: Grip
Kick-Point: Mid
Curve Options: TC2, TC2.5, TC4, MC
Flex Options: 75-85-95-105