Boxing Day 2019: December 26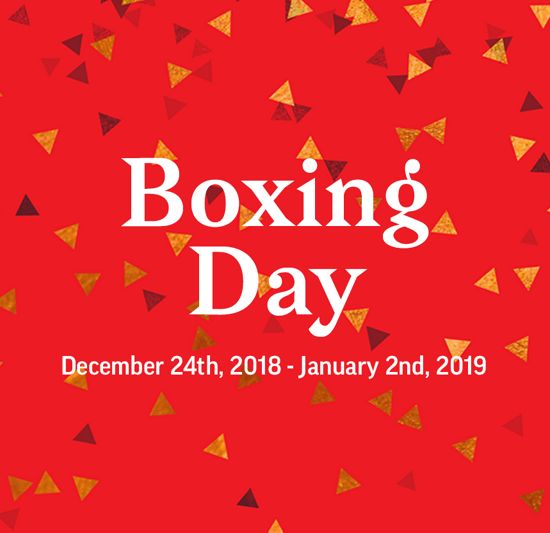 Sport Chek's annual Boxing Day sale is here at Sport Chek stores and SportChek.ca. Our 2019 sale takes place December 24 - January 2, surrounding Christmas Day. Select shoes, boots, sports apparel and sporting equipment products qualify for Boxing Day savings, meaning more money saved for you! Doorcrashers are up to 60% off during this promotional period. Boxing Day deals are limited to in-stock quantities. Take advantage of special deals while quantities last. Plus take advantage of free shipping credits towards your purchase and have your Boxing Day deals shipped straight to your door, Canada-wide.*
SIGN UP FOR BOXING DAY 2019 EMAIL REMINDERS
When is Boxing Day?
Sport Chek's Boxing Day sales event takes place followig Christmas Day. Boxing Day sales will take place in-store and online, starting the day after Christmas. Sport Chek retail stores will be open longer to make sure you can take advantage of all the savings, and SportChek.ca gives you access to deals and savings even while the stores are closed.
What is Boxing Day?
Boxing Day is the day after Christmas Day. It is called "Boxing Day" because, in medieval Britain, servants had a day off and would receive a gift box on this day. Modern day Boxing Day is a nation-wide sales event in which shoppers receive massive discounts on products in-store and online, following the Christmas holiday.
How is Sport Chek Taking Part In Boxing Day?
Like Canadian Tire, Atmosphere, Mark's and other Canadian Tire Corporation brands, Sport Chek will be offering select inventory at special year-end discounts during our Boxing Day event. Take advantage of 20% - 70% off the products you love during our annual sale. Most products are a minimum of 20% off the ticket price from December 24-30, while doorcrashers are up to 70% off from December 24 - January 2. Our Boxing Day sales event takes place December 24 - January 2, in-store and online.
Are Boxing Day Deals Available Online?
Yes. Boxing Day deals are available both in-store and online at SportChek.ca. Boxing Day deals will take place at SportChek.ca. Sport Chek's promotions will be in effect during our Boxing Day event starting December 24 and ending January 2. All purchases over $50 are elegible for a free shipping credit*
What Products & Brands Will Be On Sale During Boxing Day?
The products and brands vary from year to year. Rest-assured, Boxing Day deals take place site-wide and encompass a variety of sports equipment, boots, jackets, hoodies, shirts, shoes and everything in-between. Some exclusions apply.
*Receive A Free Shipping Credit On Orders Of $50 Or More
Free shipping credit offer applies to sportchek.ca orders over $50. A maximum credit towards shipping costs of $25 will be applied during checkout. Customer will be charged the balance of shipping costs above $25. This free shipping credit offer applies to select items for delivery by standard shipping only and excludes delivery to some remote locations. Entire order must be shipped to a single address. For shipments of orders to remote locations that are excluded from this offer, the shipping charge will be visible after checkout. Offer is not applicable towards the shipping costs for returned items or towards the purchase of online gift certificates and gift cards. Offer is not valid on previous purchases. Offer valid only while supplies last and not applicable to cancelled orders due to out-of-stock merchandise.
Sport Chek is part of the Canadian Tire Group of Companies