Vitamins & Supplements At Sport Chek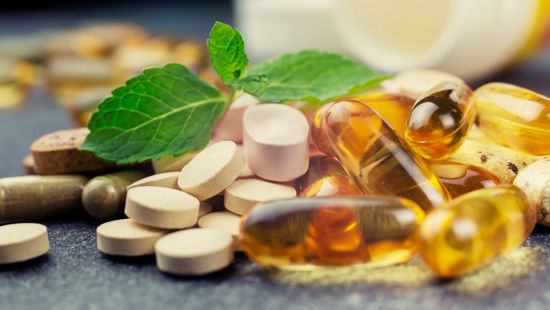 Did you know Sport Chek now carries a variety of vitamins, nutritien supplements and functional foods? Shop a variety of proteins, EFAs, minerals and general health supplements to help you recover and mantain a healthy self while you do what you love. From day-to-day vitamins to proteins and supplements for training and recovery, SportChek.ca carries everything you'll need to stay on your game.
Shop our vitamins and supplements (coming soon)!
Vitamins & Supplements FAQ
What vitamins and supplements does Sport Chek carry?
Sport Chek is please to carry a variety of vitamins, health supplements, minerals and general health items. Shop a variety of antioxidants, smoothie boosters, hormones, enzymes, pre-workout, nutrition and energy bars, multi-vitamins, proteins and much more. A complete list of categories and products can be found on this page.
Can I order vitamins and supplements online?
Yes, our entire inventory of vitamins and supplements are available for purchase online. Sport Chek ships directly to your home or office, Canada-wide.
Which stores carry which products?
At this time, we're making an effort to ensure consistencey across all stores. The products you see in our inventory online are also reflected in-store. However, please check the inventory on the product pages to ensure your store currently has stock available for the products you're interested in.
What brands does Sport Chek carry?
Sport Chek carries supplements and vitamins from brands like; VEGA, Genuine Health, BioSteel, Cellucor, Iron Vegan, Jamieson, Progressive, Mega Food, SISU, Webber, Nature's Way, Flora, Renew Life, Align, Prairie Naturals, Lorna V HS & Navitas
*Receive A Free Shipping Credit On Orders Of $50 Or More
Free shipping credit offer applies to sportchek.ca orders over $50. A maximum credit towards shipping costs of $25 will be applied during checkout. Customer will be charged the balance of shipping costs above $25. This free shipping credit offer applies to select items for delivery by standard shipping only and excludes delivery to some remote locations. Entire order must be shipped to a single address. For shipments of orders to remote locations that are excluded from this offer, the shipping charge will be visible after checkout. Offer is not applicable towards the shipping costs for returned items or towards the purchase of online gift certificates and gift cards. Offer is not valid on previous purchases. Offer valid only while supplies last and not applicable to cancelled orders due to out-of-stock merchandise.
Sport Chek is part of the Canadian Tire Group of Companies