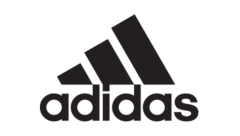 adidas Women's
adidas was created on the belief that we have the power to change lives through sport. That belief fuels our passion to design and innovate the best products for athletes around the world.
adidas is a brand trusted by athletic women around the world for offering products that take performance to the next level. Sport Chek has all of the best adidas women apparel, accessories and footwear to help you train and compete to the best of your ability. In our adidas shop in stores, you'll find a wide range of adidas women shoes plus womens pants, shorts, tops, jackets, styles and accessories. Our knowledgeable team can help you find that perfect sports bra or pair of adidas women Superstar sneakers.

Our adidas online shop features a huge selection of products for women as well. You can start your search by clicking on the links above. In the adidas Originals collection, you'll discover all of the adidas classic designs that have made the brand legendary. Many of the adidas Originals womens products have expanded beyond the playing field and become iconic in the world of fashion. Original adidas designs like the adidas Gazelle and adidas Superstar sneakers have become instantly recognizable and can help you make a comfortable style statement on the street. In addition to acclaimed adidas sneakers, you can also find timeless apparel like a womens adidas hoodie or an adidas track jacket women's design in the Originals collection.
If you're a runner, Sport Chek is the place to find all of the adidas gear you need to go the distance. We carry the latest adidas womens running shoes, including the Ultra Boost, which features responsive cushioning technology to give you optimal support mile after mile. Keep warm and safe with a reflective adidas jacket and benefit from compression technology with adidas shorts and leggings designed especially for runners. You can dress from head to toe in women's specific running clothing, accessories and apparel from adidas. Click the Running icon to start shopping now.
The adidas Training collection features clothing and shoes that are engineered to enhance performance during workouts and athletic practice. Choose adidas shoes, apparel and accessories for training, and you can benefit from innovative technologies that the pros rely on. With a climacool adidas jacket, women like you can stay warm without getting overheated when the pace of workout picks up. Climachill apparel actually gets cold in response to increases in your body heat to cool you off on hot summer days. Techfit training gear maximizes muscle energy to help you make more explosive movements throughout every workout. You can learn more about these and other adidas technologies by shopping the Training collection now.