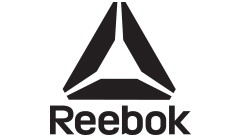 Reebok Shoes & Clothing
At Reebok we see it as our purpose to inspire people to be their absolute best. We believe that fitness is a way of life. Tough fitness is our take on fitness for all that are willing to conquer the unkwown obstacles in life.
An American inspired global brand, Reebok is a pioneer in the sporting goods industry with a rich and storied fitness heritage. Reebok develops products, technologies and programming which enable movement and is committed to accompanying people on their journey to fulfill their potential. Reebok connects with the fitness consumer wherever they are and however they choose to stay fit whether it's functional training, running, combat training, walking, dance, yoga or aerobics. Reebok Classics leverages the brand's fitness heritage and represents the roots of the brand in the sports lifestyle market.
+ Read More
Shop Reebok Women's Shoes & Clothing
Shop Reebok Kids' Shoes & Clothing:
Shop Reebok Featured Collections: