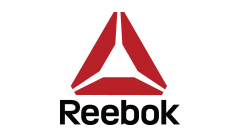 Reebok Clothing & Footwear
At Reebok we see it as our purpose to inspire people to be their absolute best. We believe that fitness is a way of life. Tough Fitness is our take on fitness for all that are willing to conquer the unknown obstacles in life.
Always Training
There is always something new to try just around the corner. You've got to be prepared for anything to train better, stronger and longer. Always improving. Always Training.
Always Classics
At the heart of Reebok Classic, the brand's legendary heritage lends itself to make a statement that rings true in today's modern trends. Classics has always been its most true when it's worn by people whose personal style makes a mark on the world.
We envision a future where humans return to their roots. A future where we recognize that each of us is a living, breathing, walking, talking, running, climbing, jumping, laughing, caring miracle—a miracle that happens only once.
Through tough fitness, we will push each other to honor the body we've been given, because we have only one body to honor. We will endure sweat, tears and even a bit of blood. We will flip tires, sprint hills, and do push-ups until we can't do them any longer. Why do we do this? We certainly aren't flipping tires to be better tire flippers. We're doing it to be better, period. Better leaders; better parents; better stronger, more determined humans—capable of anything. We do it to honor our bodies and sharpen our minds—to be more human.
+ Read More