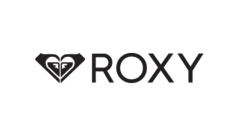 Roxy
If you love to embrace the world of possibilities each day has to offer, and seek out adventure and new experiences, then ROXY was made for you. As a brand catering to women all around the world, ROXY has been inspiring women like you since 1991, and facilitating your active lifestyle with products that compliment it. What started as a surf brand, has evolved into a global sport brand that caters to the latest women's trends and fashion.
Make Waves, Move Mountains
We are a force. A magnetic force. A force to be reckoned with. We seek the seasons, the South swells and the nuking powder. We seek movement and see change. We're progressive. Driven. Impatient. Now. Our inertia propels us forward, and we won't be stopped. Whether it's wind, waves, snow, streets, or stereotypes, we rock our own vibes without trepidation. Our style flows from real. Purists. Originators. Competitors. Champions. We move united, taking the lead from those gifts before us. We are trailblazers, natural beauties and global gypsies grooving through this life under sunburnt skies. Here's an invitation to join our trip. To put your heart into it. To draw new lines and show others that they can do the same.
Shop All Roxy
While surf still lives at the core of our ROXY style, we are well known on the mountains as a reputable snowboard brand, and are making waves in the fitness community as well. Your energy is contagious and keeps us motivated to innovate new and exciting products and evolve the brand into the future. ROXY is fun, fashionable, functional, and free-spirited, become part of our communicty today and enjoy our selection of styles.
+ Read More