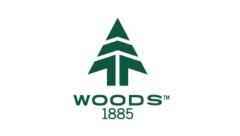 Woods
Woods has proudly been outfitting Canadian exploration with crafted, reliable gear since 1885 allowing adventurers to revel in the journey and trade in city glow for the northern lights.
Versatile Weather Protection
The Monolith 2-Layer Mid-Length jacket provides extensive weather protection in an urban forward design. This fully seam taped mid-length jacket with waterproof OutTech™ Force technology keeps water out without compromising breathability and air flow.
Breathable Rainwear
Ready for all adventures, the Toba 2-Layer Shell jacket delivers versatile, waterproof and breathable OutTech™ Force protection. This everyday rain jacket features underarm zippers to vent extra heat when on the move.
Woods. True. North. Strong.™
The spirit of exploration has been sewn into every Woods product since 1885. Over the past 134 years Woods' has outfitted many expeditions including the first successful navigation of the Northwest Passage by Roald Amundsen and crews. Watch our new adventurers on their modern-day journey retracing Amundsen's Northwest Passage journey.
Shop All Woods
Shop Woods jackets, vests, hoodies and shirts
Woods is a Canadian outdoor apparel company founded in 1885 by James W. Woods. Even in 1867, Woods was known to produce quality outdoor jackets and apparel for Canadian lumbermen. Nowadays Woods is a Canadian manufacturer of quality outdoor cold weather, arctic and winter parkas made for life in our great country. Featuring Canatite® DWR Treated polyurethane coated outer shells, Woods parkas, jackets, outer shells and clothing come equipped to withstand the harshest cold weather conditions. Woods is Canada's adventure outfitters
Specializing in winter and cold weather parkas, Woods Canada has become known for its original parkas as well as its down parka, arctic parka, expedition parka and Canadian parkas, which are all part of Sport Chek's Woods line. These winter and cold weather products are put to the test right here in Canada. Woods parkas speak for themselves in just three words: True. North. Strong. Shop Woods parkas, jackets & outdoor apparel at SportChek.ca
Sport Chek carries the latest line of Fall & Winter outdoor jackets from Woods. Featuring the latest outdoor technologies, Woods jackets are now available at Sport Chek stores across Canada, as well as SportChek.ca. Shop down jackets as well as bomber jackets, base, mid and outer layers, insulated jackets, winter parkas and other outdoor apparel to help you stay warm on your next adventure. Sport Chek also carried hoodies, t-shirts and vests from Woods. Shop Woods products at SportChek.ca as well as all our stores across Canada.