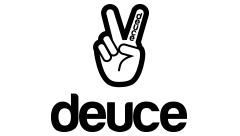 Deuce Basketball Wristbands & Apparel
Deuce Brand is a California apparel & wristband company created to embody the Underdog Mentality in all of us. The core value of our brand is having a #2 mindset while constantly striving to become #1 in everything you do. The company motto, "LOOK GOOD. PLAY GOOD" was adopted as part of the Deuce Brand culture and has been a key ingredient in our product development.
Deuce Brand wristbands & apparel have quickly caught the attention of the sports, lifestyle and fashion markets worldwide. Our products can be found on trend setters around the globe. We thrive on offering unique wristbands & apparel that turn heads with high quality, affordable pricing and fresh looks!
Shop Top Wristbands & Accessories Styles