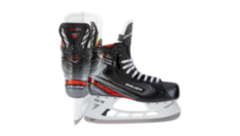 Skate Sharpening
Congratulations on your recent skate purchase.
Please bring this purchase in for a FREE first sharpen. Our trained Technicians can help you find the perfect sharpen for your skating style/conditions and provide your skates the highest quality sharpen.
For safety reasons, skate sharpening is required prior to use and must be done by a trained Service Shop Technician.
We encourage you to bring your new skates into one of our many Sport Chek Retail locations to have them sharpened at no additional cost, when accompanied by the original SportChek.ca packing slip and proof of purchase.
Heat Molding and Skate Customization
Many of our stores offer heat molding to help you break in your new skates. This service is free of charge for new skates and can be completed within our stores. Please contact your local store for information related to this service.
Please visit our STORE LOCATOR to find the closest Sport Chek to you.